Posts tagged "YouTube"
One of the world's largest sites dedicated to converting YouTube videos to downloadable MP3s has lost a court battle with representatives from the music industry. YouTube-MP3, a site that was also threatened by Google in 2012, agreed to cease and desist from its current mode of operation after it was revealed it was not only ripping music from YouTube, but also archiving the MP3s for future download. Despite the loss, the site remains online – legally.
In addition to obtaining music from file-sharing networks, those looking for free tracks often get them from so-called tube-rippers, sites and services that transform YouTube videos into downloadable MP3s.
These tools are available in several formats including desktop packages, apps for mobile devices, and more commonly browser-based tools. In mid-2012 YouTube owners Google, believed to be under pressure from the music industry, started to make life more difficult for web-based YouTube converters and some cases issued threats to sue.
While some sites decided to shut down, many others continued business as usual, including the German site YouTube-MP3, one of the largest YouTube ripping services around with around 30 million visits per month. The site has long insisted that it has a right to provide ripping services but having fought off Google it recently found itself up against fresh adversaries.
Three music companies under the umbrella of industry group BVMI challenged YouTube-MP3′s assertion that it operates legally and sued it in the Hamburg District Court. The companies said that while YouTube-MP3 claimed to be offering only a rip-and-download service, there were serious technical issues behind the scenes that rendered the site in breach of copyright law.
YouTube-MP3 claimed that users of its service could enter the URL of a YouTube video and have the site convert and churn out an MP3 for download. Apparently, however, that wasn't always the way it worked. Once a video had been converted to MP3, that audio was stored on YouTube-MP3′s servers. If another user subsequently entered the same YouTube URL, no conversion or ripping was carried out. They were simply handed a copy of the previously stored MP3 for download.

In a statement sent to TorrentFreak, BVMI said that this was a clear breach of copyright law.
"Contrary  to  the  common  assumption  that  YouTubeMP3  is  a streamripper that allows users to record songs from the Internet (much as cassette recorders were used to record  music from the radio  back in the day),  in fact the online converter often simply made the pieces  available  for download  without a license," BVMI said.
BVMI said that by the time the case had arrived in court last month the owner of YouTube-MP3 had already signed cease and desist declarations and agreed to refrain from reproducing and distributing copyright content.
"The current case provides deep insights into the workings of so-called  'recording services' and exposes a trick that not only hoodwinks the rights owners but also misleads the users of these  services," said BVMI Managing Director Dr Florian Drücke.
"Under the guise of private copying [YouTube-MP3] deceives people into thinking  that everything  is above-board, even though  the user  –  unwittingly  –  avails himself of an  illegal download platform. We have for some time pointed out that the vague  definition  of  'private copies'  encourages  cat-and-mouse games  in matters of streamripping, so  a clarification  at the political level is needed here."
With the signing of the declarations the Hamburg District Court considered the case closed but ordered YouTube-MP3 to pay everyone's costs.
TorrentFreak contacted the site's owner for a comment but as yet we've received no response. Presumably life at YouTube-MP3 will continue, but without storing converted MP3s for subsequent download. The end result, of course, is that users of the site will still get ripped MP3s just as they did before, a point not lost on BVMI.
"One  thing  is  clear:  this  platform,  as  well  as  most  other streamripper sites,  generate considerable advertising income that is not shared with the artists or their partners.  This has nothing to do with fairness, nor does it fit with our current digital age, when many music sites – some of them free – can be used perfectly legally on the Internet," BVMI conclude.
Viewed 38507 times by 7978 viewers
The London School of Economics and Political Science has released a new policy brief urging the UK Government to look beyond the lobbying efforts of the entertainment industry when it comes to future copyright policy. According to the report there is ample evidence that file-sharing is helping, rather than hurting the creative industries. The scholars call on the Government to look at more objective data when deciding on future copyright enforcement policies.
Over the past years there have been ample research reports showing that file-sharing can have positive effects on the entertainment industries.
Industry lobbyists are often quick to dismiss these findings as incidents or weak research, and counter them with expensive studies they have commissioned themselves.
The London School of Economics and Political Science (LSE) jumps into the discussion this week with a media policy brief urging the UK Government to look beyond the reports lobbyists hand to them. Their report concludes that the entertainment industry isn't devastated by piracy, and that sharing of culture has several benefits.
"Contrary to the industry claims, the music industry is not in terminal decline, but still holding ground and showing healthy profits. Revenues from digital sales, subscription services, streaming and live performances compensate for the decline in revenues from the sale of CDs or records," says Bart Cammaerts, LSE Senior Lecturer and one of the report's authors.
The report shows that the entertainment industries are actually doing quite well. The digital gaming industry is thriving, the publishing sector is stable, and the U.S. film industry is breaking record after record.
"Despite the Motion Picture Association of America's (MPAA) claim that online piracy is devastating the movie industry, Hollywood achieved record-breaking global box office revenues of $35 billion in 2012, a 6% increase over 2011," the report reads.
Even the music industry is doing relatively well. Revenue from concerts, publishing and digital sales has increased significantly since the early 2000s and while recorded music revenues show a decline, there is little evidence that piracy is the lead cause.
"The music industry may be stagnating, but the drastic decline in revenues warned of by the lobby associations of record labels is not in evidence," the report concludes.
Music industry revenue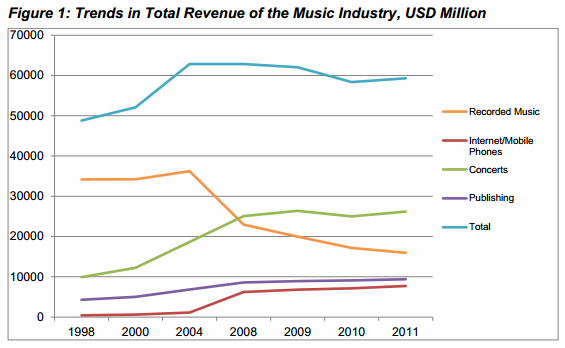 The authors further argue that file-sharing can actually benefit the creative industries in various ways.
The report mentions the success of the SoundCloud service where artists can share their work for free through Creative Commons licenses, the promotional effect of YouTube where copyrighted songs are shared to promote sales, and the fact that research shows that file-sharers actually spend more money on entertainment than those who don't share.
"Within the creative industries there is a variety of views on the best way to benefit from online sharing practices, and how to innovate to generate revenue streams in ways that do not fit within the existing copyright enforcement regime," the authors write.
Finally, the report shows that punitive enforcement strategies such as the three strikes law in France are not as effective as the entertainment industries claim.
The researchers hope that the U.K. Government will review the Digital Economy Act in this light, and make sure that it will take into account the interests of both the public and copyright holders.
This means expanding fair use and private copying exceptions for citizens, while targeting enforcement on businesses rather than individuals.
"We recommend a review of the DEA and related legislation that strikes a healthy balance among the interests of a range of stakeholders including those in the creative industries, Internet Service Providers and internet users."
"When both [the creative industries and citizens] can exploit the full potential of the internet, this will maximize innovative content creation for the benefit of all stakeholders," the authors write.
Viewed 28702 times by 6854 viewers
Google announced today that it will lower the search engine rankings of websites that receive a high number of DMCA takedown requests, independent of whether the linked content is lawful or not. The algorithm change is the result of extensive lobbying efforts by Hollywood and the major music labels, and could severely degrade the rankings of websites such as The Pirate Bay, FilesTube, and even YouTube.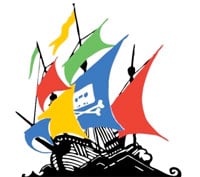 For years entertainment industry groups have lobbied search engines to penalize sites that link to a high number of copyrighted files, and today Google has given in to their demands.
The search engine will soon take into consideration the number of DMCA takedown notices it receives against sites to determine the ranking of those websites in its search results.
"Starting next week, we will begin taking into account a new signal in our rankings: the number of valid copyright removal notices we receive for any given site. Sites with high numbers of removal notices may appear lower in our results," Google's Amit Singhal writes in a blog post.
Earlier this year Google decided to publish all takedown requests online as part of their transparency report, and they will now use this data as part of their search algorithm. This means that websites for which Google receives a high number of valid takedown requests will be penalized.
The top receivers of these notices over the past year were filestube.com, extratorrent.com, torrenthound.com, bitsnoop.com and isohunt.com. They can expect to appear lower in future search results and will therefore receive less traffic through Google searches. Whether Google will downgrade YouTube, where (tens of) thousands of videos are routinely disabled because of alleged infringements, is unknown at this point.
Google stresses that it doesn't know whether content is authorized or not, so removal of pages from its search results will only take place following a valid DMCA takedown notice.
"Only copyright holders know if something is authorized, and only courts can decide if a copyright has been infringed; Google cannot determine whether a particular webpage does or does not violate copyright law," Singhal writes.
"So while this new signal will influence the ranking of some search results, we won't be removing any pages from search results unless we receive a valid copyright removal notice from the rights owner."
One of the main problems with Google's new ranking is that perfectly legitimate content on sites with a high number of takedown requests will be degraded as well. Taking YouTube as an example, millions of relevant and legal search results will be degraded simply because there are a high number of "unauthorized" videos posted to the site.
Adding the high number of bogus DMCA notices which Google sees as valid, many sites may also be punished for the faulty takedown requests that copyright holders send. That's worrying to say the least.
For Hollywood and the major music labels Google's announcement is a clear win. In fact, it was one of the three demands they handed out to Google, Bing and Yahoo last year during a behind-closed-doors meeting.
The other two demands were "prioritize websites that obtain certification as a licensed site under a recognized scheme" and "stop indexing websites that are subject to court orders while establishing suitable procedures to de-index substantially infringing sites."
Whether Google will also adopt these suggestions remains to be seen.
Viewed 32121 times by 7051 viewers
SOPA.  The Stop Online Piracy Act.
If you have a web browser open for most of the day, or you just happened to have badly misspelled soap in a Google search, you've come across SOPA.
In short, it's bad. Cauliflower bad or (if you're a some kind of deviant who actually likes the flavor of cream of evil vegetables) Tea Party bad.
The entertainment industry and, I suspect, some folks along the Republican side of the aisle, want the ability to block any website from view that could have possibly, maybe once, but we're not really sure, hosted copyrighted content illegally. In principle, I get it. The entertainment companies would very much like to stop dumping millions of dollars into projects that have to actually be good in order to recoup their cost. The current state of affairs seems to be; "I create a crappy but mildly entertaining product, people get wind of the fact that it's probably not going to be very good and therefore not worthy of their hard-earned money and they either download it illegally, or wait for it to arrive on DVD, OnDemand, or Netflix.
The simple solution, of course would be for content producers to stop churning out endless acres of crap. But that's never going to happen. So we get SOPA; a nuclear option to stop the money from bleeding out.
But is the money bleeding out in enough quantities to warrant a nuclear option?
I really don't think so.
The vast majority of consumers fall into what I call the baseline user class. They own at least one full computer (desktop/laptop) likely a smartphone and maybe (a very slim percentage so far but growing) a tablet of some sort.Maybe they do a bit of gaming but mostly they surf the internet, watch cat videos on YouTube, get a bit of work done and post embarrassing pictures of themselves and others on Facebook. That is the vast, vast majority of users. I've tried to explain to those of my friends that fall into this category how to use tools like Bittorrent to acquire free (or stolen, depending on the laws of the jurisdiction you happen to live in) content, but it mostly falls on incapable ears. Gone are the halcyon days of piracy through simple channels like Napster and Kazaa. Pirating in the modern era is much more efficient but also requires a bit more specialized knowledge and effort, two things that the baselines lack when it comes to entertainment.
When the average user thinks about digital content, it usually comes in convenient but paid for and licensed forms like iTunes, Pandora, Netflix, Hulu, or Amazon. The vast, vast majority of consumers pay for every single piece of digital content they consume. Sure, the way they've chosen to consume it means scaled down profits for content producer but, as Republicans and Tea Baggers love to remind everyone, the market determines value, not whatever you think something should be worth.
So why SOPA?
Power, control, censorship and a deep misunderstanding of the technological proficiency of the people who actually understand how the internet in general and piracy in particular work.
Congress believes, by virtue of the authority granted to them by those who've elected them, that they have power. The entertainment industry believes, by virtue of its billions of dollars in revenue, that they have power. The supporters of SOPA who aren't tied to either of those spheres believe, by virtue of their influence over daily life on the internet (see GoDaddy) that they have power.
And they are all correct. But it is not true power, because it is utterly dependent on a combination of our tolerance and apathy, two traits which are mercifully shrinking within the populace at large.
Congress, for example, is filled with people who care not a bit for the desires of those who voted them into power. They care, almost exclusively, about pushing the agenda of their political party. They care about winning. But they can only do so if they are allowed to continue holding office, so they have to walk a tightrope between their own desires and not doing anything that the lowest common denominator of their electorate will find undesirable. Their power is derived from us and they can only exercise control over us to the extent that we allow it. At least in four year blocks.
Large service and content providers like those within the entertainment industry are subject to the same limitations. Yes, their money equates directly to power and influence. But they can only continue to exercise those advantages if we continue to give them money. Which is why the passage of SOPA is so important to them. They are trying to force us to pay for their schlock whether we care to or not and, really, it's hard not to foresee a scenario where one of the major content providers decides that something hosted on Netflix somehow violates a copyright agreement and uses the broad powers of SOPA to blockade the legitimate services we choose to use in lieu of more expensive options. They want to dictate terms to the market. The reason that they're being so brazen in their measures this time is, ironically, that the very same limitation that should make them think twice about so joyously biting the hands that feed them (our ability to effect a boycott of their services and thus drain them of all of their resources) is exactly the thing that we won't exercise. Time and again (with the exception of the recent GoDaddy mass exodus) we've shown that when principle clashes with convenience, convenience wins. It is a frustrating flaw of the human condition.
However….
What both governments and corporations fail to understand is that individual mastery of technology within our culture has become such that, within the relatively small percentage of the population that doesn't fall into the baseline category of users, there exist large pockets of individuals who have the power, from a keyboard, to thwart the concerted efforts of Big Business and Big Government with relative ease, especially when it comes to the field of internet censorship.
Case in point:
This morning I read this article that talks about a browser extension for Firefox called Soapy. Soapy is a tiny little script that can be downloaded and installed by anybody, into Firefox on any computer, by means of simply dragging the script file to your browser window. And its sole purpose is to change the way your browser looks up websites that have been blocked by SOPA and instantly navigate around ISP enabled blocks to allow you access to your content.
Before SOPA has even been passed, someone has found a way to render it moot. And this is just the first blow; this is just one guy, typing away from the comfort of his home office. Others will follow. It will become easier and easier for the baseline user to access tools that free them from the oppression of corporate and government interests, and that is a very good thing.
But why is it so easy?
Because the people who seek to control and censor online content don't understand that  the internet isn't a thing that they can contain within the laws of the land. It isn't something that you can control. The internet is more than cables and connections and websites. It is, like Soylent Green, people.
And people, whether en masse or as individuals, will always find a way to remain free.
Even from the clutches of Sony Entertainment and the Tea Party.
Viewed 36361 times by 8011 viewers
The unspoken battle between
HBO
and
Netflix
got a little uglier on Thursday when it was revealed that the premium cable channnel had stopped offering
DVDs
to Netflix at a discount.As
first reported by the The New York Times
and later confirmed by both companies, the volume wholesale discounts that HBO used to offer Netflix are no more. The change took place at the first of the year.
Although Netflix remains committed to offering HBO titles to its rent-by-mail customers — the company can simply acquire the latest releases of Boardwalk Empire and True Blood via other retail outlets — this move underscores a trend we've written about before: The content battle taking place between online streaming and TV Everywhere, the initiative from content providers to offer their products directly to subscribers online.
Brad Adgate, senior vice president and director of research at Horizon Media doesn't think HBO's decision to refuse discounts on its discs will have much of an impact on Netflix's subscriber base, in part because "DVDs are kind of on its way out and Netflix has moved its core business to streaming." He describes the relationship between HBO and Netflix as "frienemies," noting that "they are competitors but also offer the other a source of revenue."
According to Adgate, the real challenge is the success of HBO's streaming app, HBO Go, and the broader impact that might have on Netflix's new core business.
---
HBO Go vs. Netflix
---
HBO's parent company, Time Warner, has famously refused to license its popular and critically acclaimed content to Netflix (excepting early HBO programming like The Larry Sanders Show that are bound under different home-video agreements). Instead, HBO has pursued its own TV Everywhere initiative with HBO Go.
HBO Go is an app that offers subscribers access to current HBO programming along with a back catalog of original series. This content is available on iOS, Android, Roku and video game consoles. HBO Go is a huge hit, with more than 5 million downloads in 2011. Time Warner Cable and Cablevision, two early TV Everywhere holdouts, have both agreed to start support HBO Go in 2012.
As I've argued in the past, the success of HBO Go has shown content owners that they don't necessarily have to bypass traditional distribution platforms like cable; instead content owners can augment their current cable deals with online/tablet/phone access.
---
The Content Battle Continues
---
When it comes to content, Netflix is in a bit of a catch 22. On the one hand, it needs a viable, robust and ever-increasing library of streaming content to keep its customer base. On the other hand, the success of Netflix — and indeed the broader success of Hulu Plus, HBO Go and online subscription in general — has made acquiring content much more expensive.
As Adgate pointed out, Netflix's deal with Starz expires next month. When the Starz agreement ends, Netflix will lose its streaming access to almost all of its Walt Disney, Pixar and Sony Pictures content. Netflix has tried to spin the loss, pointing out its content deals with AMC Networks and DreamWorks Animation, but as Adgate pointed out, the company is now paying the same amount for a small selection of titles that it used to pay for an entire year's worth of Starz content.
Adgate thinks Netflix's next step will be to sell advertising "similar to the way Hulu does and what YouTube is trying to do" and in the process "create a second revenue stream" in addition to subscriber fees. Adgate argues that while many compare Netflix to ad-free pay cable à la HBO, the better comparison is traditional cable networks like FX or ESPN. As Adgate notes, "Consumers already pay $5 a month for ESPN and you get ads with that."
It's an interesting proposition. While Netflix might have a hard time integrating advertising into its main catalog of titles, the company is increasingly investing in original programming. Its first original series will debut next month, with future projects — including the continuation of Arrested Development to follow into 2013.
---
Viewers Still Love Netflix
---
Of course, even with the content growing pains, viewers still love Netflix. The company reported 2 billion hours of streaming content was consumed at the end of 2011. Analyst Richard Greenfield told Variety that by his estimations, that would make Netflix the 15th most watched network.
The real question is, what impact will new content deals (or a lack of deals) have on these viewership numbers.
Viewed 26761 times by 5196 viewers
Celebrating the one-year anniversary of the arrival of The Beatles' catalog to iTunes, Apple is promoting the band's music with a new TV ad, while also showcasing a new free "Yellow Submarine" interactive e-book on the iBookstore. Meanwhile, Samsung has released another TV spot mocking iPhone users, this time over music and movie storage.
Covers
Apple's new TV ad, entitled "Covers," animates the album covers from The Beatles' prolific career to the song "Magical Mystery Tour," as pointed out by MacRumors.
"Let iTunes take you on a journey through The Beatles, from Please, Please Me, all the way to Abbey Road," the commercial's description reads on Apple's YouTube page.
In addition to the spot, an iBooks exclusive interactive e-book featuring the band's music has arrived on Apple's digital bookstore. According to a press release, "Yellow Submarine" features a "kaleidoscopic, music-filled journey" with animated illustrations from a 2004 book, full-color video clips from the 1968 film and audio from the band and the film's score. The book also offers "read aloud" functionality narrated by actor Dean Lennox Kelly.
After years of negotiations between Apple and the band's parent company Apple Corp, The Beatles' music arrived on the iTunes store last November. The two companies had previously disagreed over the "Apple" trademark before resolving the dispute in 2007.
In the first week of iTunes availability alone, customers bought 450,000 albums and 2 million songs of the group's music. In January, Beatles sales on iTunes had reached 5 million songs and 1 million albums. Apple Corps reported on Friday that worldwide sales of the catalog on iTunes have now reached 10 million songs and 1.8 million albums.
Reports have suggested that Apple's unique deal with Apple Corps may be more lucrative than standard contracts with other artists. Apple is said to have bested rivals Google and Amazon to gain exclusive digital rights to the band's catalog last year.
The next big thing
South Korean electronics maker Samsung has released a second television ad poking fun at Apple and its customer base and promoting its Samsung Galaxy S II smartphone. The new spot appears to be part of a series, as it looks to have been filmed on the same Universal Studios back-lot and uses some of the same actors as the original.
The commercial opens on a line in Boston, MA with a Samsung user stopping to greet his iPhone-toting friends. "Woah, you guys are still here?" he said.
His friends responded by saying, "36 hours is a small price to pay" to keep all their music and movies.
"Well, I have all my playlists right here, my music streams from the cloud and I have tons of places to buy my movies," the Samsung user said. "What are you guys giving up?"
They answered: sleep, vacation days, and "the feeling in my legs," as the text, "The next big thing is already here," appeared on screen.
Samsung's first "Next Big Thing" ad caricatured Apple fans waiting in line, assumedly for the iPhone 4S. Samsung's view of the typical iPhone user was stereotyped during the spot. For instance, one customer said he was disappointed that he couldn't show off the new iPhone because it had the same form factor, while another, a barista, vowed never to use Samsung because he was "creative."
Though Samsung's advertising tactics have thus far maintained a relatively friendly tone, Apple and its rival do mean serious business in the legal arena. The two have become adversaries in an international intellectual property battle over smartphones and tablets. Most recently, Apple complained to a U.S. judge that Samsung was stalling in order to delay a trial.
A U.S. district judge recently denied Apple's request for an injunction of four of Samsung's mobile devices, but Apple filed an appeal this week.
Samsung won back a small victory against Apple this month when an Australian court reversed an injunction against its Galaxy Tab 10.1 tablet. The device is expected to go on sale in the country early next week.
Viewed 24697 times by 4849 viewers