Posts tagged "Uploading and downloading"
you have been around the BitTorrent scene for a while, you are bound to have heard about XtremeWrestlingTorrents (XWT for short). It is a long standing, veteran private tracker and one of the most popular sites indexing Wrestling content. Up until recently, XWT had two other sister sites, XWT-Classics, a wrestling tracker dedicated to classic content, and All4Nothing, a General/0Day torrent site. Well, the XWT family of trackers just got a new member, this time a specialized TV tracker in the name of Torrent-Vision.
The welcome message on forum gives you a brief idea about what this tracker is all about:
Welcome to Torrent-Vision. We are a Dedicated TV Show website that aims to bring you all of the latest shows, packs, classic seasons and much more.
The tracker launched just about 2 months ago, and has gained some ground during this time. It currently tracks over 1200 TV torrents, and boasts an impressive registered users base of 7000 members. Indexed content is pretty much what you would expect from a TV tracker; individual episodes of latest shows, and full season packs of previously aired content. Actually, Torrent-Vision already indexes 200+ packs, which is quite an achievement for a two month old private torrent community.
For those of you worried about not being able to maintain a positive ratio due to capped bandwidth or slow upload speeds, good news is this tracker employs a seed points system which rewards you based on the TIME you seed a torrent, with no concern over how much data you actually uploaded:
In order to help our site have as many members as possible seeding torrents we have now added Seed Points. This means for every hour that you seed a torrent, you will receive 0.25 points. You can then trade your points for Upload Credit, Invites or a Custom Title!         Even if you are not uploading on a torrent, you WILL still receive points. We are hoping this new system will keep our older torrents alive for longer.
Currently, Torrent Vision not a TV tracker that can rival the heavyweights such as BMTV, BTN or TvTorrents.com. However, given the success of XWT crews successful tracker portfolio, you can expect good things coming from Torrent-Vision. And of course, signups are still open as of 12/1/2012.
Site Name: Torrent-Vision (http://torrentvision.net)
Viewed 41170 times by 10299 viewers
A site founded by a former moderator of one of the most popular file-hosting and uploader hangouts has admitted today that his site was a honeypot setup to capture data on pirate activity. WDF, a former senior staff member at popular discussion forum WJunction, says that in the 12 months since his site went online he's been grabbing information about uploaders and file-hosts. "I suckered shitloads of you," he said today as he announced the acquisition of his site by a U.S.-based anti-piracy company.
Paranoia can be high in the file-sharing world so it will come as no surprise that there are regular rumors that site X or user Y cannot be trusted. While it's almost certain that on some sites there are staff members who don't have the community's best interests at heart, evidence of serious foul play is a rare occurrence.
Today, however, the owner of a file-sharing discussion forum confirmed that his site was actually a pirate honeypot, setup with the aim of gathering otherwise confidential information on uploaders, file-hosts and web companies involved in the piracy ecosystem. Adding insult to injury, that site and the admin's services have been acquired by a U.S.-based anti-piracy company.
WDF, real name unknown, is the founder of UploaderTalk.com, a web forum designed to attract individuals who like to make money from uploading files to file-hosting sites. Part of the idea is that they join the site and interact with others with similar aims, such as representatives from file-hosting sites touting their affiliate schemes.
UploaderTalk was founded pretty much a year ago today after WDF was banned from a similar but much larger site called WJunction, probably the largest uploader/file-hosting hangout anywhere on the web.
However, WDF wasn't any old member. After joining up to WJunction in September 2011, WDF later became a moderator then super moderator on the site, meaning that he had access to a lot of private information such as email and IP addresses. The implications for file-hosting sites and uploaders hardly need to be pointed out.
It's not clear why WDF was eventually removed from WJunction but there was clearly some kind of falling out. Shortly after WDF's departure around 12 months ago internal leaks of information from WJunction were published on the web, ostensibly from some kind of third party hack.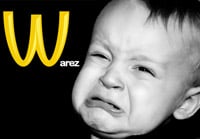 UploaderTalk reported on these leaks regularly including the November 2012 revelations by Robert King of the StopFileLockers anti-piracy campaign which claimed to contain the identities of WJunction's owners and backers.
UT, as UploaderTalk became known, was never destined to challenge WJunction as the leading site of its kind. However, in addition to its regular readers, over the past 12 months the site gathered nearly 1,000 fully signed up members of the uploading and file-hosting community. For them today's announcement will be an unpleasant one.
"UT is now closed. UT was set up for a number of reasons. But mostly to be a sounding board, proof of concept.[.].and to collect data," WDF said in a statement today.
"That's right the biggest swerve ever. I, WDF, work for the anti-piracy people! I have collected information on many of you. I collected info on file hosts, web hosts, websites."
The official announcement from WDF confirmed what many people have suspected for some time – that WDF had been playing on both sides of the fence.
"How is it I was able to protect some sites and people? Because I was working for the other side!" WDF said.
"How is it I knew so many things? Well think about it, I suckered shitloads of you. I built a history, got the trust of some very important people in the warez scene collecting information and data all the time."
It's unclear what WDF intends to do with the information obtained so far but for now it has to be presumed that he will be sharing it with his new employer, NukePiracy LLC, a company registered on October 2013 in Nashville, Tennessee.
"So what happens now? I am already working with a different ID, a new persona, and still collecting data. You never know who I will be or where I will turn up. I work for Nuke Piracy now, this is very bad for anyone profiting from piracy," WDF concludes.
Viewed 34321 times by 8271 viewers
RAP as a Service (RaaS) Prerequisites
This download is meant for Microsoft Premier Support customers only. This page contains prerequisites documents for the various RAP as a Service programs offered by Microsoft Premier Support.
Download RAP as a Service Prerequisites – Microsoft Download Center – Download Details
Viewed 68744 times by 7317 viewers
I use the following  for my client I prefer utorrent 2.2.1
For the sites I only use two.   Two that I have been on for over 5 years probably more like 8-10.
Anyway   1)  BITSOUP
2) Torrentleech is my other.
3)  I also have a search site that I like to use to obtain hard to find items
Viewed 46003 times by 9686 viewers
Most people know that BitTorrent is far from anonymous, but seeing all your recent downloads listed on a public website is still quite a revelation. This is exactly what Youhavedownloaded.com does. The developers of the site want to make people aware of the public nature of BitTorrent, and are currently working on a more anonymous version of the leading file-sharing technology.
So what have you downloaded lately?
If you're not using BitTorrent through a proxy or VPN, there's a good chance that the rest of the world can see without asking.
YouHaveDownloaded is a new Russian-based service that claims to track about 20 percent of all public BitTorrent downloads. However, they go a step further than just collecting IP-addresses and file-names by exposing all the harvested information to the public on their website.
People who visit the site immediately see their download history, as far as it's available in the site's database. In addition, they can also search for files or IP-addresses to find out who's downloading what. At the time of writing the database has information on  51,274,000 users who together shared 103,200 torrents.
TorrentFreak got in touch with Suren Ter, one of the site's founders, to find out why they decided to create this spying tool.
"We just want to remind people that the Internet is not a place to expect privacy," he says. "Nowadays many people use it without understanding what information they leave behind. Also, even those who understand choose to ignore it quite often."
The Russian developers created the site partly as a wake-up call. Those who don't want this kind of information to be public should take steps to anonymize their traffic, and do that right. This message is also reflected in the site's 'privacy policy'.
"Baby, this is the Internet. There is no such thing as privacy around here. You are sitting in the privacy of your own house, clicking links, reading stuff, watching movies. It may seem like you are pretty much alone, but smart nerds are watching you. They watch your every move. You are not human to them. You are a target — a consumer," it reads.
Jokes aside, the site does indeed make people aware of the public nature of BitTorrent, something that can't be stressed enough. Of course not everyone will be happy to see that their information is being exposed, so the developers also offer an option to de-list an IP-address.
Apart from exposing download habits the developers are also considering the creation of a more private file-sharing protocol. They already have a theoretical concept based on Bitcoin's technology, but a workable piece of software is still very far away.
"The general idea is similar to what Bitcoin does. The key is to have an anonymous and reliable identity for each peer, and a Bitcoin-like signature chain algorithm will help," Suren said.
The developers are currently trying to find out how viable their idea is, and then they'll decide whether they should continue working on it or not. For now, they'll keep on tracking dozens of millions of downloaders, for all the world to see.
Viewed 34488 times by 7690 viewers