Posts tagged "TorrentFreak"
The RIAA alerted the U.S. Government to several notorious pirate websites this week, including The Pirate Bay. While the inclusion of the infamous torrent site doesn't come as a surprise, the RIAA did raise a novel issue. The music labels point out that The Pirate Bay has embraced the cryptocurrency Bitcoin, which they believe makes it harder to seize and trace the site's funds. While the former is certainly true, a quick look at TPB's Bitcoin wallet easily reveals where the donation money is being spent.
This week the RIAA submitted a new list of "notorious websites" to the U.S. Government, sites that the labels would like to see disappear.
The Pirate Bay also made it onto the list and the RIAA points out that despite the criminal convictions of its founders, the site continues to operate. The identities of the current administrators of the site remain a mystery to the music industry group.
"The true operators of the site remain unknown," the RIAA writes. "The convicted individuals claimed the site is owned by a company based in the Seychelles, although no evidence has been provided."
Interestingly, the RIAA also brings up the fact that The Pirate Bay is now accepting donations through the cryptocurrencies Bitcoin and Litecoin. This apparently complicates law enforcement efforts to track and seize funds of the torrent site.
"In April 2013, the site started accepting donations from the public by Bitcoin, a digital currency, which operates using peer-to-peer technology," RIAA notes.
"There are no central authority or banks involved  which makes it very difficult to seize or trace Bitcoin funds. In May 2013, the site also started accepting Litecoin, another peer-to-peer based internet currency."
Bitcoin does indeed make it harder to seize funds, as law enforcement would need access to the computer where the wallet is kept. However, tracing where the Pirate Bay donations go isn't all that hard. In fact, all transactions are visible to the public and we can today reveal where some of the Pirate Bay donations went.
In total, TPB has raised close to 100 Bitcoins spread over two addresses, which is roughly $20,000 at the current exchange rate. A quick look at the current wallet shows that The Pirate Bay received 64 Bitcoins which were all spent elsewhere.
As can be seen below, most recently 8.97 Bitcoins were spent on a fundraiser for a public audit of the open source encryption software TrueCrypt. Before that, part of the donations were spent on a charity rally from Dover to Mongolia. Of course, Bitcoin addresses can also be used anonymously so it's not always possible to identify or trace the recipients.
Pirate Bay spends Bitcoin
TorrentFreak talked to The Pirate Bay team who told us that they don't manage the Bitcoin donations themselves. They are grouped into one fund with donations to other projects, such as the PublicBitTorrent tracker, and end up in a central fund that's managed by someone from the Pirate Party.
Considering the above, RIAA's comments regarding the Bitcoin donations make it look much more suspicious than reality shows. But perhaps that's exactly what the labels want to achieve?
Viewed 6961 times by 1163 viewers
One of the world's largest sites dedicated to converting YouTube videos to downloadable MP3s has lost a court battle with representatives from the music industry. YouTube-MP3, a site that was also threatened by Google in 2012, agreed to cease and desist from its current mode of operation after it was revealed it was not only ripping music from YouTube, but also archiving the MP3s for future download. Despite the loss, the site remains online – legally.
In addition to obtaining music from file-sharing networks, those looking for free tracks often get them from so-called tube-rippers, sites and services that transform YouTube videos into downloadable MP3s.
These tools are available in several formats including desktop packages, apps for mobile devices, and more commonly browser-based tools. In mid-2012 YouTube owners Google, believed to be under pressure from the music industry, started to make life more difficult for web-based YouTube converters and some cases issued threats to sue.
While some sites decided to shut down, many others continued business as usual, including the German site YouTube-MP3, one of the largest YouTube ripping services around with around 30 million visits per month. The site has long insisted that it has a right to provide ripping services but having fought off Google it recently found itself up against fresh adversaries.
Three music companies under the umbrella of industry group BVMI challenged YouTube-MP3′s assertion that it operates legally and sued it in the Hamburg District Court. The companies said that while YouTube-MP3 claimed to be offering only a rip-and-download service, there were serious technical issues behind the scenes that rendered the site in breach of copyright law.
YouTube-MP3 claimed that users of its service could enter the URL of a YouTube video and have the site convert and churn out an MP3 for download. Apparently, however, that wasn't always the way it worked. Once a video had been converted to MP3, that audio was stored on YouTube-MP3′s servers. If another user subsequently entered the same YouTube URL, no conversion or ripping was carried out. They were simply handed a copy of the previously stored MP3 for download.

In a statement sent to TorrentFreak, BVMI said that this was a clear breach of copyright law.
"Contrary  to  the  common  assumption  that  YouTubeMP3  is  a streamripper that allows users to record songs from the Internet (much as cassette recorders were used to record  music from the radio  back in the day),  in fact the online converter often simply made the pieces  available  for download  without a license," BVMI said.
BVMI said that by the time the case had arrived in court last month the owner of YouTube-MP3 had already signed cease and desist declarations and agreed to refrain from reproducing and distributing copyright content.
"The current case provides deep insights into the workings of so-called  'recording services' and exposes a trick that not only hoodwinks the rights owners but also misleads the users of these  services," said BVMI Managing Director Dr Florian Drücke.
"Under the guise of private copying [YouTube-MP3] deceives people into thinking  that everything  is above-board, even though  the user  –  unwittingly  –  avails himself of an  illegal download platform. We have for some time pointed out that the vague  definition  of  'private copies'  encourages  cat-and-mouse games  in matters of streamripping, so  a clarification  at the political level is needed here."
With the signing of the declarations the Hamburg District Court considered the case closed but ordered YouTube-MP3 to pay everyone's costs.
TorrentFreak contacted the site's owner for a comment but as yet we've received no response. Presumably life at YouTube-MP3 will continue, but without storing converted MP3s for subsequent download. The end result, of course, is that users of the site will still get ripped MP3s just as they did before, a point not lost on BVMI.
"One  thing  is  clear:  this  platform,  as  well  as  most  other streamripper sites,  generate considerable advertising income that is not shared with the artists or their partners.  This has nothing to do with fairness, nor does it fit with our current digital age, when many music sites – some of them free – can be used perfectly legally on the Internet," BVMI conclude.
Viewed 8668 times by 1047 viewers
Is Hollywood partly to blame for the high piracy rates of some movies? A newly launched website suggests that this may be the case, as it shows that the most pirated movies are not available to stream, buy or rent legally. While the movie industry has built its business on release delays, people's viewing demands are changing rapidly up to the point where and Hollywood may want to reconsider its model.
Every day millions of people download the latest Hollywood blockbusters though unauthorized sources.
The movie industry is not happy with the ever-increasing piracy rates and has called out Google and other stakeholders to "do more" to help. At the same time, Hollywood keeps emphasizing the many legal options that are available to the public.
A few months ago the MPAA launched the website WhereToWatch.org which provides an overview of dozens of legal video outlets that are available in the United States.
"Audiences want seamless access to film and TV shows. Our industry has listened, and we are now delivering more choices than ever before," MPAA boss Senator Dodd said at the time.
"There have never been more ways to access movies and television legitimately online, and those platforms continue to grow and develop thanks in large part to a copyright system that encourages innovation, risk and growth," Dodd added.
While this sounds great, the WhereToWatch site doesn't change the fact that many of the newer releases are simply not available online due to artificial release lags. After a movie's box office premiere it usually takes months before people can access it online.
This mismatch prompted public policy researchers at George Mason University's Mercatus Center to take a close look at the online availability of some of the most pirated movies. On the newly launched Piracydata.org the researchers use TorrentFreak's weekly lists of most pirated movies combined with information from CanIStreamIt to come up with an overview of the availability of these titles.
The results from this week are listed below, and it's clear that half of the movie titles don't have any legal options at all, while none are available for streaming.
TorrentFreak talked to Jerry Brito, director of Mercatus Center's Technology Policy Program and one of the people behind the PiracyData website. Brito tells us that the MPAA and RIAA complaints that Google is placing pirate search results above legal alternatives was one of the motivations to look into the legal availability.
"We are compiling a dataset to help answer the question: Are the most-pirated movies available legally online? With only three weeks of data, the answer seems to be that very few are available legally. We'll get a clearer picture in the months ahead as the dataset grows," Brito says.
The lack of legal alternatives they have found so far means that Google sometimes has no other choice than to place pirate sites high in the search results, as there simply are no authorized options available.
"One implication may be that when movies are unavailable, illegal sources are the most relevant search results, so search engines like Google are just telling it like it is. That is their job, after all," Brito says.
While the current dataset is limited to three weeks, it's quite telling that of all movies listed none was available for streaming, while only 20% could be rented.
Brito notes that the data doesn't prove a causal effect between availability and piracy, but that it's clear that Hollywood can "do more" to increase access to popular movies themselves.
"While there is no way to draw causality between the fact that these movies are not available legally and that they are the most pirated, it does highlight that while the MPAA is asking Google to take voluntary action to change search results, it may well be within the movie studio's power to change those results by taking voluntary action themselves."
"They could make more movies available online and sooner, perhaps by collapsing the theatrical release window. Now, their business model is their prerogative, and it's none of my business to tell them how to operate, but by the same token I don't see how they can expect search engines and Congress to bend over backwards to protect the business model they choose," Brito adds.
Whether Hollywood will take up this suggestion has yet to be seen. Some movie studios have experimented a bit with shorter release delays, but unlike the TV and music industry it is still the core of its business model.
Viewed 8588 times by 1006 viewers
A site founded by a former moderator of one of the most popular file-hosting and uploader hangouts has admitted today that his site was a honeypot setup to capture data on pirate activity. WDF, a former senior staff member at popular discussion forum WJunction, says that in the 12 months since his site went online he's been grabbing information about uploaders and file-hosts. "I suckered shitloads of you," he said today as he announced the acquisition of his site by a U.S.-based anti-piracy company.
Paranoia can be high in the file-sharing world so it will come as no surprise that there are regular rumors that site X or user Y cannot be trusted. While it's almost certain that on some sites there are staff members who don't have the community's best interests at heart, evidence of serious foul play is a rare occurrence.
Today, however, the owner of a file-sharing discussion forum confirmed that his site was actually a pirate honeypot, setup with the aim of gathering otherwise confidential information on uploaders, file-hosts and web companies involved in the piracy ecosystem. Adding insult to injury, that site and the admin's services have been acquired by a U.S.-based anti-piracy company.
WDF, real name unknown, is the founder of UploaderTalk.com, a web forum designed to attract individuals who like to make money from uploading files to file-hosting sites. Part of the idea is that they join the site and interact with others with similar aims, such as representatives from file-hosting sites touting their affiliate schemes.
UploaderTalk was founded pretty much a year ago today after WDF was banned from a similar but much larger site called WJunction, probably the largest uploader/file-hosting hangout anywhere on the web.
However, WDF wasn't any old member. After joining up to WJunction in September 2011, WDF later became a moderator then super moderator on the site, meaning that he had access to a lot of private information such as email and IP addresses. The implications for file-hosting sites and uploaders hardly need to be pointed out.
It's not clear why WDF was eventually removed from WJunction but there was clearly some kind of falling out. Shortly after WDF's departure around 12 months ago internal leaks of information from WJunction were published on the web, ostensibly from some kind of third party hack.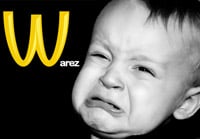 UploaderTalk reported on these leaks regularly including the November 2012 revelations by Robert King of the StopFileLockers anti-piracy campaign which claimed to contain the identities of WJunction's owners and backers.
UT, as UploaderTalk became known, was never destined to challenge WJunction as the leading site of its kind. However, in addition to its regular readers, over the past 12 months the site gathered nearly 1,000 fully signed up members of the uploading and file-hosting community. For them today's announcement will be an unpleasant one.
"UT is now closed. UT was set up for a number of reasons. But mostly to be a sounding board, proof of concept.[.].and to collect data," WDF said in a statement today.
"That's right the biggest swerve ever. I, WDF, work for the anti-piracy people! I have collected information on many of you. I collected info on file hosts, web hosts, websites."
The official announcement from WDF confirmed what many people have suspected for some time – that WDF had been playing on both sides of the fence.
"How is it I was able to protect some sites and people? Because I was working for the other side!" WDF said.
"How is it I knew so many things? Well think about it, I suckered shitloads of you. I built a history, got the trust of some very important people in the warez scene collecting information and data all the time."
It's unclear what WDF intends to do with the information obtained so far but for now it has to be presumed that he will be sharing it with his new employer, NukePiracy LLC, a company registered on October 2013 in Nashville, Tennessee.
"So what happens now? I am already working with a different ID, a new persona, and still collecting data. You never know who I will be or where I will turn up. I work for Nuke Piracy now, this is very bad for anyone profiting from piracy," WDF concludes.
Viewed 8536 times by 1042 viewers
The trouble continues for torrent site H33t, as its new .eu domain has disappeared from the Internet a few hours ago
Earlier this month H33t.com's nameservers had been wiped from the domain records its domain registrar Key-Systems.
The same now appears to be happening to the new .eu domain, as these nameservers have been deleted as well.
Key-Systems previously confirmed to TorrentFreak they were forced to take this action following a local court order obtained by Universal Music Group.
Since the German company is also listed as the registrar for the .eu domain, we assume that they have now been asked to "seize" H33t.eu as well.
The trouble continues for torrent site H33t, as its new .eu domain has disappeared from the Internet a few hours ago Earlier this month H33t.com's nameservers had been wiped from…
This post is from the News Bits section of TorrentFreak where we present stories from around the web in a concise summary format. Full TorrentFreak articles can be found here. If you have a tip please let us know. News Bits have their very own RSS feed
Viewed 10639 times by 1168 viewers
The new Obamacare website Healthcare.gov has had its fair share of problems over the past weeks, and the trouble continues.
As it turns out, the Government website uses the open source software DataTables, which is a plug-in for the jQuery Javascript library.
While using open-source software is fine, the makers of Healthcare.gov decided to blatantly remove all references to its owners or the original copyright license.
In other words, they simply took the open-source software and are passing it off as their own, a clear violation of the GPL v2 and BSD (3-point) licenses DataTables uses.
For a comparison, here is the original DataTables file and this is how it looks on Healthcare.gov.
Original DataTables
Pirated DataTables
SpryMedia, the company behind Data Tables told The Weekly Standard that they are  "extremely disappointed" with the rip off and they will follow the issue up with the Department of Health and Human Services, who run Healthcare.gov.
Perhaps they can also contact the Department of Homeland security who are known to seize domains that assist in copyright infringement…
The new Obamacare website Healthcare.gov has had its fair share of problems over the past weeks, and the trouble continues. As it turns out, the Government website uses the open…
This post is from the News Bits section of TorrentFreak where we present stories from around the web in a concise summary format. Full TorrentFreak articles can be found here. If you have a tip please let us know. News Bits have their very own RSS feed
Viewed 9858 times by 1063 viewers
New tax records reveal that the Center for Copyright Information, the outfit overseeing the "six strikes" copyright alert system in the U.S., costs $2 million a year to run. This previously undisclosed  sum is shared between the RIAA, MPAA and the five participating Internet providers. The true cost of the copyright alert system is expected to be millions more, as the copyright holders and ISPs pay separately for tracking the alleged pirates and processing the warnings.
Two years ago the MPAA and RIAA teamed up with five major Internet providers to announce their "six strikes" anti-piracy plan.
The parties founded the Center for Copyright Information (CCI) which is incorporated as a non-profit company of the same name in Delaware.
While the CCI has been very clear about its goals, information on its finances has been scarce. In the memorandum of understanding the copyright holders and ISPs agreed to split the costs of the company 50/50, but the exact figures remained unknown.
When we previously asked about total operating costs CCI declined to answer. Luckily the IRS was more helpful, so after two years we can now finally lift the financial veil.
TorrentFreak obtained the most recent tax filing of the six-strikes outfit which covered the first eight months of the company's operations to June 30, 2012.
During this time the ISPs and copyright holders paid a total of $1,377,633 in membership dues, which means that it costs around $2 million per year to keep the company afloat.
The $2 million figure makes sense since the RIAA previously mentioned in its tax filing that it spent $250,000 in CCI membership dues up until March 2012. This would cover half of the $500,000 it would owe per year.
The CCI tax filing further shows that Executive Director Jill Lesser is the only key employee, and that she earned a very modest $43,750 during the first eight months. Looking more closely, we see that Lesser indirectly earns a bit more as $193,750 was paid to her consulting firm JAL Consulting.
The filing further shows that the six-strikes outfit paid $144,093 to their PR firm Glover Park Group, $125,691 for Resource Global's consulting services, as well as $102,928 in legal fees.
All in all there aren't too many surprises in the tax filing, although it's worth knowing how much the six-strikes copyright alert system costs.
It's not known whether the $2 million in membership dues for the first year is a fixed amount, so it may fluctuate from year to year. Also, it's worth noting that the costs above only apply to the CCI organization. The copyright holders and ISPs incur extra costs when they track down infringers and process the notices.
In other words, copyright holders and ISPs are likely to spend double or triple the previously mentioned $2 million on the entire six-strikes system.
Now that the first accounts are in we encourage the CCI to also share some data on how many people have received a copyright alert to date. But whatever that number is, for now the copyright alerts have failed to make a dent in traffic to file-sharing sites.
Viewed 8865 times by 1000 viewers
The top 10 most downloaded movies on BitTorrent are in again, 'Pacific Rim' tops the chart this week, followed by 'White house Down.' 'Elysium' completes the top three.
This week we have two newcomers in our chart.
The Internship is the most downloaded movie for the second week in a row.
The data for our weekly download chart is collected by TorrentFreak, and is for informational and educational reference only. All the movies in the list are BD/DVDrips unless stated otherwise.
RSS feed for the weekly movie download chart.
Week ending Oktober 13, 2013
Ranking
(last week)
Movie
IMDb Rating / Trailer
torrentfreak.com
Viewed 7768 times by 1118 viewers
The season finale of Breaking Bad has resulted in a record number of pirated downloads for the popular TV-series. Just 12 hours after the first copy appeared online more than 500,000 people had already downloaded the show via various torrent sites. Most downloaders come from Australia, followed by the United States and the UK, where thousands of file-sharers prefer unauthorized copies over legal alternatives.
One of the main motivations for people to download and stream TV-shows from unauthorized sources is availability.
If fans can't get a show through legal channels they often turn to pirated alternatives.
However, the series finale of Breaking Bad shows that there are more factors at play. Despite the availability of legal options, in many countries there are those who still prefer to download a copy from unauthorized sources.
Data gathered by TorrentFreak shows that 12 hours after the first copy of the episode appeared online, more than half a million people has grabbed a copy through one of many torrent sites. Never before have so many people downloaded a Breaking Bad episode, making it a strong contender for a top spot in our most-pirated TV-shows of the year chart.
So where are all these pirates coming from, and why aren't they going for the legal options?
Based on a sample of more than 10,000 people who shared the site via a BitTorrent client, we see that Australia is once again in the lead with 18 percent of the total. This means that a large group of Aussies prefer to torrent the episode instead of watching it on the pay TV network Foxtel.
In the U.S. and the U.K the legal availability on Netflix couldn't prevent people from pirating the final Breaking Bad episode either. With 14.5 and 9.3 percent these countries are second and third respectively. India and Canada complete the top five with 5.7 and 5.1 percent of the total.
Looking at the list of countries below it's clear that piracy is still rampant, even in countries where people do have the option to watch the show legally.
One of the explanations for this defiant behavior is that these downloaders simply prefer to torrent the show out of habit. As reported earlier, even among those who have a Netflix subscription, many prefer to grab a copy via torrent sites as they find it more convenient.
In other cases people may find a pay TV subscription too expensive, or they simply prefer to watch the show at their own leisure instead of following rigid TV-schedules
Viewed 10068 times by 1413 viewers