Posts tagged "Personal computer"
This is not a lightweight laptop you're looking at. Oh sure, it's light in weight – 3.06 pounds – and incredibly thin at .54 of an inch. But Samsung's new ATIV Book 9 Plus – powered by Windows 8.1 – has an Intel Core i7 processor, 7.5 hours of battery life and can boot up in less than six seconds, quicker than you can spell "f-a-s-t."
Leigha Anderson, writing on the Windows Experience Blog, says she was able to get her hands on this powerful machine and that she was "beyond impressed" with the laptop's design, feel, power, performance and its screen, "13.3 inches of QHD+ (quad high definition) bliss."
The resolution, she says, is 3200 x 1800, and text "on a website is crystal clear, while photos and movies look better than ever."
The ATIV Book 9 Plus "looks and feels stunning," she writes. "The slim profile looks great sitting on a desk or tucked under your arm while waiting in line at your favorite coffee shop."
The laptop is "sandblasted to achieve a perfect matte finish which leaves this PC feeling soft and smooth. But, don't let that worry you because the body is entirely made out of aluminum ensuring that it is incredibly solid."
The ATIV Book 9 Plus starts at $1,799, a "bit of an investment, but if you're looking for a PC with a 'wow-factor,' this one will definitely not disappoint you," Anderson writes.
The laptop is available for pre-sale exclusively now at Samsung.com, and should be hitting store shelves later this month. To read Anderson's post, head over to the Windows Experience Blog.
You might also be interested in:
· You'll "Flip" when you see this new Sony VAIO · Dell XPS 11, XPS 13 and XPS 15 – powerhouse performance in an attractive package · New Lenovo ThinkPad Ultrabooks unveiled at IFA 2013
Suzanne Choney Microsoft News Center Staff
Viewed 28996 times by 6042 viewers
Internet Explorer 11 (IE11) is now available worldwide in 95 languages for you to download today. Microsoft will begin automatically updating Windows 7 customers to IE11 in the weeks ahead, starting Thursday with customers running the IE11 Developer and Release Previews.
With this final release, IE11 brings the same leading standards support — with improved performance, security, privacy and reliability that Windows 8.1 consumers enjoy — to Windows 7 customers.
With IE11 Microsoft continues to deliver the best performance for real-world websites on your Windows device. IE11 on Windows 7 improves performance across the board, with faster page loading, faster interactivity and faster JavaScript performance, while reducing CPU usage and improving battery life on mobile PCs.
You can experience IE11's leading performance first hand with demos on the IE Test Drive site, where you'll find examples of hardware accelerated rendering, interactivity, touch and real-world site patterns.
IE11 also advances JavaScript performance. On Windows 7, IE11 is 9 percent faster than IE10, which is nearly 30 percent faster than the nearest competitive browser.
For developers, IE11 brings increased support for modern Web standards powered by hardware acceleration to enable a new class of applications and fast and fluid browsing. IE11 adds support for over 25 new or improved modern Web standards beyond IE10.
For more on the improvements with IE11, head on over to the blog post.
You might also be interested in:
· Steve Ballmer helps open 'Microsoft Berlin' to foster dialog, support startups · Microsoft spotlights Expert Educators and Mentor Schools for 2014 · Keyboard, mouse, touch: Choose one or all three in Windows 8.1
Steve Clarke Microsoft News Center Staff
Viewed 29085 times by 6021 viewers
Eight months is a long time to stay mum, especially for a tech industry wunderkind, as Michael Dell was, and one of the world's richest men, as Michael Dell is, while enduring daily bombs from Carl Icahn about his leadership and ethics. ("All would be swell at Dell if Michael and the board bid farewell," Icahn tweeted at one point.)
So as he strides in front of 350 employees in the glass-enclosed conference room of Dell's Silicon Valley division a few weeks ago, with celebratory gourmet cupcakes frosted with the company's blue logo nearby, you can literally feel a weight coming off his chest. "It's great to be here and to not have to introduce Carl Icahn to you," says Dell, the parry prompting laughter and cheers. "We're the largest company in terms of revenue to go from public to private. In another week or two we'll be the world's largest startup."
It's not that Dell hasn't been talking. Ever since February, when he announced his plan to take his eponymous company private, armed with his own fortune and billions from the private equity firm Silver Lake Partners, he's traveled the globe–including three trips to China–privately reassuring everyone who would listen that Dell was business as usual. But at the advice of counsel he kept a tight lid on talking about the buyout.
Now, having closed a $25 billion deal to take the company he founded in his dorm room private, the shackles are off. He can say what he wants–and do what he wants, too. After mixing in his 16% ownership, valued at more than $3 billion, and another $750 million in cash, with $19.4 billion from Silver Lake and a consortium of lenders, he now controls a 75% stake in the Round Rock, Tex. company. The only investor conversation he has to have, he says, is with "self."
So what is Dell now saying to himself, as well as customers, partners and employees?
Most critically, the world's third-largest personal computer maker has no plans to abandon the PC, despite that product line's sinking fortunes. In fact, he plans to sell way more of them and, if the recent past is any guide, he may just sell them at a loss. Selling commodity boxes on the cheap allows him to get Dell in the door to upsell customers on lucrative software and services. Dell has driven down the prices of PCs many times before. But a PC maker selling PCs as a loss leader? That's the kind of thing you get to do when you take a company private. "We've always viewed [PCs] as a business that's got a life cycle to it. Growth is in new areas, and it's a business you've got to manage very efficiently from a cost structure. It's still a great way to get into new customers," says Dell.
The world got a taste of this land grab in Dell's last quarter as a public company. Net income dropped 72% from a year earlier–but Dell's PC share ticked up one percentage point, its largest move in almost three years. There's a long way to go to rebalance the business. After four years of work and $13 billion in services, software and other acquisitions, the firm still gets more than 60% of revenue from PCs. Dell's market share in services and software stands at less than 1%, but these are the only categories making money and growing. Enterprise solutions, software and services revenue was up 9% in the latest quarter, and services comprised 100% of total operating profit. And in addition to battling traditional rivals like Hewlett-Packard and IBM, the company also has to worry about IT newcomers such as Amazon and Rackspace, which are wooing businesses with cloud-based services.
Yet some of the smartest minds on Wall Street, including Icahn, are convinced Michael Dell and Silver Lake got a steal at $25 billion, putting 20% down. "I agreed with the shareholders that he was not paying a fair price for Dell and that they were getting hosed," Icahn says.
Hosed may be too a strong a word. No one else but Dell wanted the company that badly, not even Icahn, who had a "win win," walking away from eight months of grandstanding with a stake worth $2.2 billion, and after squeezing out another $500 million for shareholders. The growth-challenged company will be buried under just less than $20 billion in debt in an industry in secular decline.
But Icahn knows what Dell does: that without dividends and buybacks, he should have enough cash flow to cover the interest payments. And without the public markets to worry about he has the flexibility to pull off the rebalancing act. Silver Lake, which in its last three tech deals reportedly made 213% on Skype, 730% on disk drive maker Seagate Technology and 430% on chipmaker Avago Technologies, can do the math, as well. Conservative estimates peg the potential returns on this leveraged buyout at 11% a year, based on the most recent dismal earnings. And if cash flow growth comes back–or the current results are being, shall we say, sandbagged a bit? Then Dell will neatly bookend the founding legend of his University of Texas dorm room
Viewed 27207 times by 5454 viewers
Is your computer fully taken over by FBI Moneypak virus now which asks you to pay from $100 to $500 and get computer unblocked? If your computer is locked with copyright infringement virus, don't fall into this scam. My brothers computer has been infected with the FBI Moneypak Virus ransomware. I have been following steps but it doesn't seem to be working. Do you know any FBI laptop locked code? It is an infamous ransomware that should be removed as soon as possible.
Overview of FBI Moneypak Virus – Scam FBI Blocked PC Until Pay Fine by Money pak
FBI Moneypak Virus, with a tricky appearance and brilliant means, has been doing more and more harm to people in USA. What is it? It's throughout a scam malware which tries its best to threaten computer users into paying 100 dollars through Moneypak to its master. When computer gets FBI Moneypak scam malware infection, victims receive a pop-up message from a national authority such as the FBI warning that their PC has a virus and is sending out child pornography. FBI Moneypak Virus will tell you that your online activities are violation of the federal laws of the United States of America! You may be stigmatized that your IP address was used to visit websites containing pornography, child pornography, zoophilia and child abuse. Your computer also contains video files with pornographic content, elements of violence and child pornography! Spam-messages with terrorist motives were also sent from your computer. Even the logo on the GUI (interface) is the same as real FBI department. In fact FBI Moneypak has many other versions according to different countries or areas, for example, PCEU virus from United Kingdom, Gema and GVU from Germany, Sacem from France, RCMP from Canada and Buma Stemra from the Netherlands.
All of these scam malware is designed as was issued from local government department just like FBI Moneypak Virus. FBI Moneypak ransomware's been doing the rounds for some months. There's been a big increase in the number of cases in the America country. Some people indeed will do something illegal online such as visiting some porn sites. So when they get such warning message, they will believe it deeply. A person in America was so frightened when he received this warning that he paid 100 dollars right away. In his words, he really didn't want to be jailed. FBI Moneypak Virus just takes advantage of this to swindle money from users. After you pay for it, you will just receive a message telling you that please wait for reply. But your computer won't be unlocked even if 24 hours later. This virus will require you must pay via Moneypak. Don't believe all the fake message or pay for the fine, you are not watching a movie. You won't be prosecuted by FBI. What you have to do is to remove it from your computer before it can bring you more harm.
The routes of FBI Moneypak Virus transmission
FBI Moneypak virus may lurk in anywhere on the internet. In most cases, It hides in some unsafe websites or links waiting for your visiting. The chance for its spreading may be one of your unconscious click of some place when you want to download something or open some pages. Most of people even don't know how they get caught by such virus since they don't know that any activity they do may has a risk in bringing such virus. The virus may be bounded together with other legal programs or files, as long as you get them, you also get the virus at the same time. So you'd better never visit informal websites. Before you click some links or download something, look before you leap!
My computer says it is locked by the FBI due to pornography viewing, is moneypak fine real?
What do i do when an FBI thing that come up on my computer about watching child pornography?
I have a virus on my computer that's says its the FBI and i have to pay threw money pack  for $200, how do i get rid of it?
If i throw my computer out of my window will i be hunted down for FBI federal crimes?
It seems that my antivirus is useless to remove FBI Ransomware?
In fact, when you get infected FBI Moneypak ransomware, anti-virus is not just useless, but entirely paralyzed. The reason is that, when the virus accesses into your computer, it will do whatever to capture the computer and after it gets the control authority, it will disable all the legit programs in its way. So the anti-virus will be blocked to militate. Actually, you almost can't do anything you want if your computer has been attacked by such virus unless you remove it completely.
Symptoms or Harmfulness of FBI Moneypak Scam
? Continually pops up fake alert to threaten you into paying ransom which is really annoying. ? Bring in much more other Trojans or malwares for vicious purpose. These viruses can gradually destroy your computer operating system. ? It can lock your computer and you can't run normal applications. ? It will steal your personal information for illegal usage, which may bring you great harm both from finance and psychology aspacts. ? When you suffer from economic losses, you makes the cyber cribbers have tasted the sweetness of illegal activities.
Best Way to Remove FBI 100 dollars virus Efficiently
Since your computer is locked by FBI Moneypak virus, you have to delete the virus manually with professional computer knowledge.
Step A: Restart your computer in safe mode. To do this, please press F8 key before the system is started like this: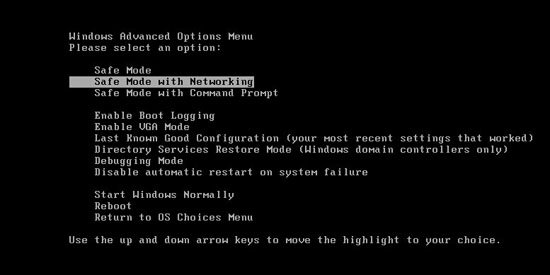 Step B: Press Ctrl+Alt+Del keys to open the Task manager to stop the progress of this scam malware virus. Because the name will be changed fast, it will be show with different name. Step C: Delete all the files related to this scam ransomware virus
Step D: Delete the ransomware Virus register entries created in computer system.
HKEY_CLASSES_ROOT\PersonalSS.DocHostUIHandler HKEY_CURRENT_USER\Software\Microsoft\Internet Explorer\Download "RunInvalidSignatures" = "1? HKEY_CURRENT_USER\Software\Microsoft\Windows\CurrentVersion\Internet
Step E: Remove malicious files %Documents and Settings%\All Users\Application Data\[random]\ %Documents and Settings%\All Users\Application Data\[random]\[random].exe %Documents and Settings%\All Users\Application Data\[random]\[random].mof
By the way: Manually remove FBI Moneypak Virus is a rather difficult work, if you are not a professional computer expert. We recommend you to get YooCare online service 24/7 in time. This is the real fastest and safe way to remove it.
Video Guide to remove FBI Notice Moneypak Porn Virus
Special tips: Have spent a lot of time removing this FBI Moneypak virus ransomware but with no success? To rescue your computer, please consult with YooCare experts 24/7 online in time to unlock your computer and remove the virus safely and completely.
Viewed 30862 times by 5919 viewers
Internet Explorer 11 Developer Preview is fast and fluid, and lets your websites shine and perform just like native applications on your PC.
Internet Explorer 11. Fast and fluid for Windows 7.
Fast: Internet Explorer 11 harnesses the untapped power of your PC, delivering pages full of vivid graphics, smoother video, and interactive content.
Easy: Experience the web the way you want to with pinned sites, built-in Spellcheck, and seamless integration with your PC running Windows 7.
Safer: Improved features like SmartScreen Filter and Tracking Protection let you be more aware of threats to your PC and your privacy.
Viewed 49400 times by 6043 viewers
If you purchase or have purchased an eligible Windows 7 PC anytime between June 2, 2012 and January 31, 2013 you will be able to purchase an upgrade to Windows 8 Pro for only $14.99 (U.S.) which will be redeemable when Windows 8 is generally available on October 26th. If you're still looking for a PC, check out some of our great Windows 7 PCs. Once you've purchased your PC you can come back and register for the offer.
Registration for the Windows Upgrade Offer is only for those who buy an eligible Windows 7 PC between June 2nd and January 31st, 2013.
Here is what you need to do to register for your $14.99 (U.S.) upgrade to Windows 8 Pro:
After buying your PC, go to the Windows Upgrade Offer website to register. It will ask you to select your country (details for the offer vary depending on country). You will then be asked to register with your personal details as well as information about your Windows 7 PC purchase – including date of purchase, retailer, and PC brand and model. You should also have your 25-digit Windows 7 product key that came with the PC handy as you may be required to enter this as part of the registration.
Then starting on October 26th, we will start sending out promo codes via email with purchase instructions. You will be directed to Windows.com where you will go through the online upgrade process with the Windows 8 Upgrade Assistant (shown above) as I have highlighted here in this blog post. Once you get to the purchase screen in the Windows 8 Upgrade Assistant, it will show the $39.99 upgrade price. However, on the order confirmation page you'll have a chance to enter your promo code – that price will change to $14.99. Once you make your purchase, your download and upgrade installation begins!
You will have until February 28, 2013 to register for the offer to get Windows 8 Pro for $14.99.
If you experience any issues or have questions – you can click the contact support link at the top of the Windows Upgrade Offer website.
Did you already buy an awesome Windows 7 PC prior to June 2nd (or have a Windows 7 PC not eligible for the offer)? Not to worry! Starting on October 26th, you will be able to upgrade to Windows 8 Pro for $39.99!
Both the Windows Upgrade Offer and $39.99 upgrade promotion is available in 140 countries worldwide, with 37 supported languages, and 23 supported currencies (we've added 9 additional countries over the original 131!).
Viewed 31159 times by 5635 viewers
On this blog, we've discussed the ways that scammers can attack your PC, through malicious software, rogue security alerts, phishing attacks and more. But the bad guys have now devised a new vector: the phone. I first learned about this when I heard my parents had received a call that they had been identified as having rogue software on their PC. The caller, who said he was from Microsoft, needed to remote access their PC to resolve the issue. Turns out scammers like these were simply taking the time to prey on potential victims by calling them and masquerading as a representative from a trusted institution to trick them into giving up valuable and personal information. Sometimes, as in my parents' case and others, they even advise installing a remote access code so scammers will have full access to the PC.
We've discovered this telephone scam is aimed at English-speaking countries, including North America and the United Kingdom. The callers pretend to be from Microsoft and try to sell the victim something, direct them to a specific website, asked for remote access, to install software, a credit card number, or run a bogus security scan that showed an infection. The Trustworthy Computing Team conducted a survey of 7,000 people, and found that more than 1,000 people had received calls.  Of those 1,000 people, 22 percent of people fell for the scam (234 people total), and 184 of those lost money – on average, more than $800.
You can check out some tips for avoiding phone scams here, but we want to remind you will never receive a legitimate call from Microsoft or our partners to charge you for computer fixes. If someone does call you claiming to be from Microsoft:
Never give control of your computer to a third party unless you can confirm that it is a legitimate representative of a computer support team with whom you are already a customer.
Never provide your credit card or financial information to someone claiming to be from Microsoft tech support if you did not initiate the call to Microsoft first.
Ask upfront if you are required to purchase software or pay a fee or subscription associated with the "service." If there is, hang up.
Take the caller's information down and immediately report it to your local authorities. If you think you've been the victim of a scam, check out these tips that can help you protect your money and identity.
It's a jungle out there! Please remember to question any unsolicited email or call. If the email came from somebody in your contact list but it feels suspicious, here is a great article on recognizing phishing emails. Lastly, always keep your PC protected with antivirus software like Microsoft Security Essentials, which is free or software from one of our partners.
Viewed 29480 times by 5966 viewers