Posts tagged "Internet Explorer"
The following post is from Roger Capriotti, senior director of product marketing, Microsoft. It was originally published on The Fire Hose.
---
Every December, the North American Aerospace Defense Command ("NORAD") serves the important role of ensuring that Santa's journey around the world is safe. Since 1955, children of all ages have tracked his route with the help of NORAD's radar, satellites and jet fighters. This year, Microsoft has lent a hand to make the experience the most magical yet, putting a fresh spin on the time-honored tradition with the launch of the new www.NORADSanta.org.
This isn't the first time Microsoft has worked with NORAD Tracks Santa. Last year, we provided our interactive Bing Maps to give people at home an interactive visual of Santa's whereabouts on Christmas Eve, which was powered by Windows Azure, as well as apps for Windows and Windows Phone that allowed people a platform to play and learn.
This year, we are raising the bar particularly around the Web experience, which brings holiday cheer to tens of millions of people every year. The Internet Explorer team in particular had a vision for how to fuse the possibilities of the modern Web with the magic of Santa. Inspired by NORAD Tracks Santa's long history and the Claymation style classic holiday movies, the Internet Explorer team partnered with NORAD to rebuild the Web experience from the ground up.
The new online experience is more than just a way to track Santa on Dec. 24. It lets you immerse yourself in the holiday throughout the month of December. With a nostalgic, 3D Claymation look and feel, the new site features a recreation of Santa's village that you can explore to discover new games daily, music, videos and more. The site is fully touch-enabled, which makes for a truly immersive experience, if you are using a touch device. On Dec. 24, a touch-enabled 3-D globe will light up as Santa begins his journey worldwide. With a modern browser like IE11, you will be able to spin the globe with a swipe of a finger and pinch and zoom to get an in-depth look at Santa's stops. Bing Maps is at the heart of the journey again. Whether you're mapping Santa's route in a browser on a computer or in an app, you'll see beautiful, high-fidelity images. Bing Maps is the canvas on which Santa's journey is plotted.
"The Internet Explorer team and everyone at Microsoft have taken the spirit of the holidays that's central to what we do with NORAD Tracks Santa and helped bring it to today's modern web and devices," Stacey Knott, NORAD Tracks Santa Program Manager, told us. "We're hearing so many fun comments from people who are checking out the new website and apps and love what they see."
Of course, the magic doesn't stop there. Many people love to watch Santa's progress on the site, and call the NORAD hotline to get the latest news straight from the command center. While you can still dial the number from a telephone, voice calling enabled by Skype this year means that with just one click, you and your kids can interact with the NORAD Tracks Santa Command Center to check in on Santa's status any time you want.
We've also made it easier than ever to track Santa with apps for Windows 8, Windows 8.1 and Windows Phone. The Windows 8 and Windows 8.1 apps will feature live tiles that allow you to track Santa straight from your start screen. And behind the curtain, Windows Azure keeps the whole thing running amidst the incredibly high traffic anticipated for Dec. 24.
This has been quite the journey for us, though it's nothing compared to the one Santa will make later this December. For a look into NORAD's history and our work with them, check out our mini-documentary on modernizing the tradition. And, make sure to try your hand at the games unveiled each day and track Santa on Dec. 24 at www.NORADSanta.org.
Viewed 15117 times by 4026 viewers
Internet Explorer 11 (IE11) is now available worldwide in 95 languages for you to download today. Microsoft will begin automatically updating Windows 7 customers to IE11 in the weeks ahead, starting Thursday with customers running the IE11 Developer and Release Previews.
With this final release, IE11 brings the same leading standards support — with improved performance, security, privacy and reliability that Windows 8.1 consumers enjoy — to Windows 7 customers.
With IE11 Microsoft continues to deliver the best performance for real-world websites on your Windows device. IE11 on Windows 7 improves performance across the board, with faster page loading, faster interactivity and faster JavaScript performance, while reducing CPU usage and improving battery life on mobile PCs.
You can experience IE11's leading performance first hand with demos on the IE Test Drive site, where you'll find examples of hardware accelerated rendering, interactivity, touch and real-world site patterns.
IE11 also advances JavaScript performance. On Windows 7, IE11 is 9 percent faster than IE10, which is nearly 30 percent faster than the nearest competitive browser.
For developers, IE11 brings increased support for modern Web standards powered by hardware acceleration to enable a new class of applications and fast and fluid browsing. IE11 adds support for over 25 new or improved modern Web standards beyond IE10.
For more on the improvements with IE11, head on over to the blog post.
You might also be interested in:
· Steve Ballmer helps open 'Microsoft Berlin' to foster dialog, support startups · Microsoft spotlights Expert Educators and Mentor Schools for 2014 · Keyboard, mouse, touch: Choose one or all three in Windows 8.1
Steve Clarke Microsoft News Center Staff
Viewed 29086 times by 6021 viewers
Is your computer fully taken over by FBI Moneypak virus now which asks you to pay from $100 to $500 and get computer unblocked? If your computer is locked with copyright infringement virus, don't fall into this scam. My brothers computer has been infected with the FBI Moneypak Virus ransomware. I have been following steps but it doesn't seem to be working. Do you know any FBI laptop locked code? It is an infamous ransomware that should be removed as soon as possible.
Overview of FBI Moneypak Virus – Scam FBI Blocked PC Until Pay Fine by Money pak
FBI Moneypak Virus, with a tricky appearance and brilliant means, has been doing more and more harm to people in USA. What is it? It's throughout a scam malware which tries its best to threaten computer users into paying 100 dollars through Moneypak to its master. When computer gets FBI Moneypak scam malware infection, victims receive a pop-up message from a national authority such as the FBI warning that their PC has a virus and is sending out child pornography. FBI Moneypak Virus will tell you that your online activities are violation of the federal laws of the United States of America! You may be stigmatized that your IP address was used to visit websites containing pornography, child pornography, zoophilia and child abuse. Your computer also contains video files with pornographic content, elements of violence and child pornography! Spam-messages with terrorist motives were also sent from your computer. Even the logo on the GUI (interface) is the same as real FBI department. In fact FBI Moneypak has many other versions according to different countries or areas, for example, PCEU virus from United Kingdom, Gema and GVU from Germany, Sacem from France, RCMP from Canada and Buma Stemra from the Netherlands.
All of these scam malware is designed as was issued from local government department just like FBI Moneypak Virus. FBI Moneypak ransomware's been doing the rounds for some months. There's been a big increase in the number of cases in the America country. Some people indeed will do something illegal online such as visiting some porn sites. So when they get such warning message, they will believe it deeply. A person in America was so frightened when he received this warning that he paid 100 dollars right away. In his words, he really didn't want to be jailed. FBI Moneypak Virus just takes advantage of this to swindle money from users. After you pay for it, you will just receive a message telling you that please wait for reply. But your computer won't be unlocked even if 24 hours later. This virus will require you must pay via Moneypak. Don't believe all the fake message or pay for the fine, you are not watching a movie. You won't be prosecuted by FBI. What you have to do is to remove it from your computer before it can bring you more harm.
The routes of FBI Moneypak Virus transmission
FBI Moneypak virus may lurk in anywhere on the internet. In most cases, It hides in some unsafe websites or links waiting for your visiting. The chance for its spreading may be one of your unconscious click of some place when you want to download something or open some pages. Most of people even don't know how they get caught by such virus since they don't know that any activity they do may has a risk in bringing such virus. The virus may be bounded together with other legal programs or files, as long as you get them, you also get the virus at the same time. So you'd better never visit informal websites. Before you click some links or download something, look before you leap!
My computer says it is locked by the FBI due to pornography viewing, is moneypak fine real?
What do i do when an FBI thing that come up on my computer about watching child pornography?
I have a virus on my computer that's says its the FBI and i have to pay threw money pack  for $200, how do i get rid of it?
If i throw my computer out of my window will i be hunted down for FBI federal crimes?
It seems that my antivirus is useless to remove FBI Ransomware?
In fact, when you get infected FBI Moneypak ransomware, anti-virus is not just useless, but entirely paralyzed. The reason is that, when the virus accesses into your computer, it will do whatever to capture the computer and after it gets the control authority, it will disable all the legit programs in its way. So the anti-virus will be blocked to militate. Actually, you almost can't do anything you want if your computer has been attacked by such virus unless you remove it completely.
Symptoms or Harmfulness of FBI Moneypak Scam
? Continually pops up fake alert to threaten you into paying ransom which is really annoying. ? Bring in much more other Trojans or malwares for vicious purpose. These viruses can gradually destroy your computer operating system. ? It can lock your computer and you can't run normal applications. ? It will steal your personal information for illegal usage, which may bring you great harm both from finance and psychology aspacts. ? When you suffer from economic losses, you makes the cyber cribbers have tasted the sweetness of illegal activities.
Best Way to Remove FBI 100 dollars virus Efficiently
Since your computer is locked by FBI Moneypak virus, you have to delete the virus manually with professional computer knowledge.
Step A: Restart your computer in safe mode. To do this, please press F8 key before the system is started like this: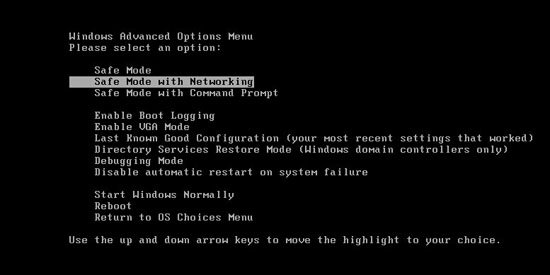 Step B: Press Ctrl+Alt+Del keys to open the Task manager to stop the progress of this scam malware virus. Because the name will be changed fast, it will be show with different name. Step C: Delete all the files related to this scam ransomware virus
Step D: Delete the ransomware Virus register entries created in computer system.
HKEY_CLASSES_ROOT\PersonalSS.DocHostUIHandler HKEY_CURRENT_USER\Software\Microsoft\Internet Explorer\Download "RunInvalidSignatures" = "1? HKEY_CURRENT_USER\Software\Microsoft\Windows\CurrentVersion\Internet
Step E: Remove malicious files %Documents and Settings%\All Users\Application Data\[random]\ %Documents and Settings%\All Users\Application Data\[random]\[random].exe %Documents and Settings%\All Users\Application Data\[random]\[random].mof
By the way: Manually remove FBI Moneypak Virus is a rather difficult work, if you are not a professional computer expert. We recommend you to get YooCare online service 24/7 in time. This is the real fastest and safe way to remove it.
Video Guide to remove FBI Notice Moneypak Porn Virus
Special tips: Have spent a lot of time removing this FBI Moneypak virus ransomware but with no success? To rescue your computer, please consult with YooCare experts 24/7 online in time to unlock your computer and remove the virus safely and completely.
Viewed 30864 times by 5919 viewers
Internet Explorer 11 Developer Preview is fast and fluid, and lets your websites shine and perform just like native applications on your PC.
Internet Explorer 11. Fast and fluid for Windows 7.
Fast: Internet Explorer 11 harnesses the untapped power of your PC, delivering pages full of vivid graphics, smoother video, and interactive content.
Easy: Experience the web the way you want to with pinned sites, built-in Spellcheck, and seamless integration with your PC running Windows 7.
Safer: Improved features like SmartScreen Filter and Tracking Protection let you be more aware of threats to your PC and your privacy.
Viewed 49401 times by 6043 viewers
While the Internet is an amazing resource in terms of the information you can find and things you can do today, it's important to also be smart about how you browse. A browser can be a great tool in helping you stay safe when you go online.
Most online attacks fall into one of the three situations:
1. Malware that relies on social engineering to spread
2. Attacks directed against your browser or your operating system
3. Attacks directed towards the websites you visit
Let me spend some time describing what I mean by each of these, and also how Internet Explorer can help protect you from each of these types of attacks.
Helping Protect You from Socially Engineered Attacks
A term that you may hear on occasion within the security realm is "socially engineered attacks." What this means is an attacker uses clever techniques to get you to lower your guard and trick you into doing something that makes you vulnerable to an attack. The idea here is that they aren't looking for weaknesses in code; rather, they're trying to fool you into a trap.
The ways in which we see this play out are varied; it may be that you get spam – that is to say an email from a fake bank that actually takes you to a malicious site, or an email supposedly from a friend that encourages you to download a file which may contain malware. To help keep you safe from such types of attacks, Internet Explorer comes with the Smart Screen filter technology, which has been improved even more with Internet Explorer 9. SmartScreen makes it harder for someone to trick you into opening a malicious page, or con you with a phishing site. This technology checks to see if the site you're visiting is suspected of hosting malicious code and subsequently prevents you from continuing on to that page. Internet Explorer 9 goes one step further by warning you only when you download applications that may be of higher risk.
Technologies like this can make a big difference in helping to keep you safe online. In December, NSS Labs reported that Internet Explorer offers the best protection against the spread of socially-engineered malware. As you can see in the below chart, Internet Explorer 8 (90%) and Internet Explorer 9 (99%) offer significantly more protection than other browsers.
Mitigating Attacks on Your Browser and PC
Internet Explorer also helps protect against deliberate attacks where bad code is hosted on a site that is designed to exploit weaknesses in the software on your PC. Among all the lines of code that make up software, there can be vulnerabilities. The Internet Explorer team designed its browser with security in mind, and in comparison to other browsers, Internet Explorer has fewer vulnerabilities. The chart below illustrates the number of publicly known vulnerabilities in 2010 divided by each browser, according to the National Vulnerability Database.
*Data source: National Vulnerability Database. Data is based upon the most recently shipped versions available during this time period. In the case of Chrome, versions 5, 6, 7, & 8 were all released during this time period.
At Microsoft, products are built with a secure-by-design approach, where security is designed into the product from the ground up. The result of this effort is a browser that includes specific features to help people stay secure and technologies that help insulate the browser against exploits. In addition to Microsoft's security processes, which includes the Security Development Lifecycle, Software Security Incident Response Process (SSIRP), and monthly security bulletins, some ways in which you might see this at a product level include features such as Protected Mode, Data Execution Prevention, and many others, both in Internet Explorer 8, and the soon to be released Internet Explorer 9.
Protecting Against the Compromised Websites
This last scenario is when an attacker that has compromised a site that you visit in a way that interferes with how your browser relates to the site. This type of an attack is called a cross-site scripting attack. In this instance, an attacker gets an unsuspecting server to load special code on your browser that allows the attacker to do anything from monitoring your keystrokes to performing actions on your behalf on the site. Internet Explorer has built in a Cross-Site Script Filter that makes such attacks more difficult and helps protect you.
The upcoming release of Internet Explorer 9 contains even more features designed to help keep you safer such as ActiveX Filtering and Application Reputation. More information on how Microsoft technologies can keep you secure can be found here.
Viewed 67556 times by 6729 viewers