Posts tagged "Google Glass"
When Arnav Anand worked as a technician at Boston Scientific, he sometimes spent hours — even days — trying to fix machines. The whole process ended up costing the company millions of dollars annually.
He knew there was a better way.
"With the advent of mobile and other developments within the industry, I saw an opportunity to fix this problem and, in fact, fundamentally change the way customer service is done today," Anand said.
So, Anand took the entrepreneur leap and started ResolutionTube in August of 2012. The company uses a mobile app and augmented reality to bring intelligent technology to the physical-product troubleshooting process. The goal is to help technicians fix problems faster and in turn, save money.
ResolutionTube CEO Arnav Anand.
"We have a big vision: to fundamentally change the way broken machines are fixed and in the long run how customer service is done altogether," Anand said.
Resolution Tube, a three-man team currently in Techstars Seattle, is already building an app for Google Glass. We caught up with Anand to learn more about the company in the latest edition of Startup Spotlight.
Explain what you do so our parents can understand it: ResolutionTube is a mobile application for people who fix complicated machines, helping them collaborate and access important information, at a fraction of their current cost and time.
Inspiration hit us when … For the last decade or more, my life has been in manufacturing. During my last job at Boston Scientific, I was managing the manufacturing floor at a large medical device company. Whenever a machine would go down it would cost the company tens of thousands of dollars and we would need to fly in an engineer from the machine manufacturer to fix the troubled machine. During the same time, I chanced upon a video about Telemedicine. My fixing of machines had a strong analogy with the doctors treating remote patients remotely. With remote troubleshooting facilities, doctors were treating sick patients separated by thousands of miles and similarly technicians could treat their sick machines. This spawned a flurry of ideas for machine repair collaboration.
VC, Angel or Bootstrap: Angel and/or VC. We've made a ton of progress on absolutely bootstrapped money, but we are always looking for ways to "do more faster" (as per the TechStars motto). With a little extra fuel we are looking to kick things into high gear and grow this company as fast as possible!
Our 'secret sauce' is: Paul Graham said it best when he boiled being a good founder down to two words: relentlessly resourceful. We believe in the power of hard work and determination, and we will do anything (within moral and ethical parameters, of course) to make this business a success!
The smartest move we've made so far: Spencer Poff, a young ambitious and smart UC Berkeley engineering senior, started working with us for sometime. Just a few days before his graduation we got the offer to pilot our product at a customer on the East Coast. We as a team from Berkeley made the fast call to abandon all other obligations and move to the East Coast to test our product in the Field and get real feedback!
The biggest mistake we've made so far: We really should probably be sleeping more…
Would you rather have Gates, Jobs, Zuckerberg or Bezos in your corner: Bezos. His tenacity is truly inspiring and resonates with our philosophy on what it takes to be successful.
Our world domination strategy starts when: Last August.
Rivals should fear us because: We are laser-focused on our customers and are willing to do whatever it takes. We as a team have stayed and worked out of an office 24/7 to meet customer deadlines. We will not stop until this business is off the ground and soaring.
We are truly unique because: We care deeply about all of our customers, not just the decision-makers. We are passionate about making a product that is not just extremely useful, but also one that people love to use.
The biggest hurdle we've overcome is: There's a new hurdle every day, we just focus on doing our best to cross them one at a time. The way how we managed to overcome the visa challenge always keeps our faith in being optimistic that things will eventually work out.
What's the one piece of advice you'd give to other entrepreneurs just starting out: I don't know if we are qualified to be giving out advice just yet, but I'd say one thing we've learned is that in entrepreneurship good things happen to those who work hard, are willing to fail and then wake up again to keep pushing on the journey. Just keep pushing forward!
Viewed 20794 times by 5115 viewers
Strap yourself in, it's going to be a wild ride. In considering the changes we've seen in technology over the past year, I'm bracing myself for unprecedented growth when it comes to anytime, anywhere, on-demand information and entertainment.
Based on the trends we've seen so far in 2013, I predict 2014 will see many fledgling technologies mature and grow beyond what we could have imagined just a few years ago.
So without further ado, here are my top 7 predictions for technology trends that will dominate 2014.
1. Consumers will come to expect Smart TV capabilities
With Smart TV shipments expected to reach 123 million in 2014 – up from about 84 million in 2012 – we are poised to see explosive growth in this industry.
In the midst of this growth, we will continue to see fierce competition between major players like Samsung, Panasonic, and LG. Prices will need to continue to drop, as more consumers crave, and even expect, the ability to use Netflix, Hulu, Amazon Instant Video and their web browser via their TV.
Of course, the development we're all waiting for in 2014 is the release of Apple's much anticipated iTV. It appears the iTV is now in the early development stage, and that Apple may be in the process of making a deal with Time Warner to facilitate programming on Apple devices.
The device is rumoured to include iCloud sync, the ability to control your iPhone, and ultra HD LCD panels. Keep an eye out for this release as early as summer 2014.
2. Smart watches will become 'smarter' Rather than having to pull out your smartphone or tablet for frequent email, text and social media updates, you'll glance at your watch.
2014 is the year to keep an eye out for the Google watch. Rumor has it the device will integrate with Google Now, which aims to seamlessly provide relevant information when and where you want it (and before you'd asked for it).
We'll see smart watches become even smarter, learning what news and updates are important to us, when we want to receive them, and responding more accurately to voice controls.
For smart watches to succeed, they'll need to offer us something that our smart phone can't; whether this means more intuitive notifications, or the ability to learn from our daily activities and behaviours (for instance, heart rate monitoring), it will be interesting to see.
3. Google Glass will still be in "wait and see" mode
While Google Glass hasn't yet been released to the general public, we've heard enough about it to know it's still very early days for this technology. With an estimated 60,000 units expected to sell in 2013, and a predicted several million in 2014, it's still a long way from becoming a common household technology.
These augmented reality glasses allow you to access information like email and texts, take hands-free pictures and videos, effortlessly translate your voice, and even receive overlaid walking, cycling or driving directions, right within your field of vision.
It's predicted that both Google Glass 2.0, and its companion, the Glass App Store, should be released to the general public sometime in 2014.
Be on the lookout for competition in this market, particularly from major players like Samsung. I predict we'll see much of this competition aimed at niche markets like sports and healthcare.
4. Other applications and uses for Apple's TouchID will emerge
The release of the iPhone 5S has, for the first time, made on-the-go fingerprint security a reality. The potential for Touch ID technology to really take off is, I believe, an inevitable reality. Touch ID, which uses a high-resolution camera to scan your fingerprint, allows convenient ultra-security for your iPhone.
Currently, the technology is limited; the only real uses are unlocking your iPhone, and making purchases in the App store. I predict that we'll see this technology incorporated into other Apple products soon. I think we'll even see TouchId integrated into MacBook products later this year or next.
I also predict TouchID, though not quite bug-free, will be used for other purposes, such as to securely integrate with home security systems, access password software, and even pay for groceries (more on that in an upcoming article).
5. Xbox One and PS4 will blur the lines between entertainment and video gaming
The new gaming consoles (Xbox One and PS4) will increasingly integrate social media-like connectivity between players. Players could have followers, work together to achieve in-game goals, and new technology will allow for equally-skilled players to compete.
The PS4, slated to be released November 15th, will track both the controller and the player's face and movements for more intuitive play.
Apart from great gaming, these systems will allow for a far more integrative entertainment experience. For instance, rather than switching between TV, gaming, music and sports, you'll be able to do two or even three activities side-by-side, or by easily switching back and forth.
6. 3D Printing will begin to revolutionize production
We've seen a huge rise in the popularity of 3D printing this year, coupled with a dramatic fall in pricing. The ability to easily create multi-layered products that are actually usable – well, that's pretty amazing.
I'll be watching for a movement towards simple products being produced close to home, and to greater customization given the ease of manufacturing. I think it's inevitable that manufacturing in countries such as China will become less appealing and lucrative for businesses given the high costs of shipping and managing overseas contracts.
I don't expect these changes to reach their full effect in 2014, however I believe businesses will be starting to consider how this will affect their production plans for 2015 and beyond. 7. The movement towards natural language search will make search more accurate and intuitive
There was a time when we used terms like "personal digital assistant" to describe a hand-held calendar. Oh, how times have changed.
With the emergence of intelligent personal assistants like Google Now and Apple's Siri, the goal is to have information intuitively delivered to you, often before you even ask for it. The shift seems to be away from having to actively request data, and instead to have it passively delivered to your device.
Natural language search will continue to overtake keyword-based search, as seen by Google's move towards longer, more natural searches in its recent release of Hummingbird, Google's largest algorithm update thus far.
Viewed 34493 times by 7750 viewers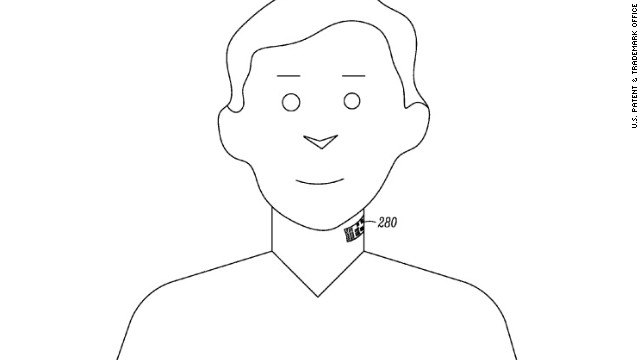 A new patent says an electronic tattoo could be attached to a user's throat or on a collar.
CNN) — It looks like Google Glass was just the beginning. Google now appears to be aiming a few inches lower, working on a temporary electronic tattoo that would stick to the user's throat.
Google-owned Motorola Mobility has filed for a patent, published last week, for a system "that comprises an electronic skin tattoo capable of being applied to a throat region of a body."
The patent says the tattoo would communicate with smartphones, gaming devices, tablets and wearable tech like Google Glass via a Bluetooth-style connection and would include a microphone and power source. The idea is that wearers could communicate with their devices via voice commands without having to wear an earpiece or the the Glass headset.
And how's this for future tech? It could even be used as a lie detector.
"Optionally, the electronic skin tattoo can further include a galvanic skin response detector to detect skin resistance of a user," the 10-page document reads. "It is contemplated that a user that may be nervous or engaging in speaking falsehoods may exhibit different galvanic skin response than a more confident, truth telling individual."
"Galvanic" is a reference to the way some surfaces, even skin, conduct electricity.
In images attached to the filing, the tattoo appears to be between a postage stamp and a Band-Aid in size. The filing says that in addition to sticking via an adhesive to the throat, the tattoo could go on a collar or a band around the user's neck.
Other possible uses include making both incoming and outgoing audio clearer. That could mean anything from making smartphone conversations clearer in a crowded room to being able to listen to music without earphones.
And we can't quite figure out the use case for this one, but: "the electronic tattoo can also be applied to an animal as well."
Digital tattoos and mind-reading headphones
With Google Glass, the company has moved to be at the forefront of the rapidly emerging trend in wearable tech. Glass is a wearable computer with a smartphone-like display that lets users text, browse the Web, take photos and run other apps, all hands free.
The latest version rolling out to field testers includes an ear bud, in response to complaints from some that the first version's bone-conduction sound system didn't work well. It's not hard to envision the throat tattoo as an eventual answer to that complaint.
Other wearable tech either on the market or the horizon includes smartwatches from Samsung and Sony, with Google, Apple and Microsoft expected to join the fray soon.
A Motorola spokesman said the company has no comment about the patent filing at this time.
YouTube faces backlash for Google+ integration
Viewed 33266 times by 6292 viewers