Posts tagged "Filesharing"
International superstar Prince is back on the copyright warpath, yet again targeting individuals who are quite possibly some of his biggest fans. In a lawsuit filed in the Northern District of California, Prince is chasing down fans who found links to his live concerts and posted them on Facebook and blogs. The unlucky 22 individuals, 20 of whom are yet to be identified, face a damages claim of $22 million.
Prince Rogers Nelson is undoubtedly a great and prolific singer/songwriter, but if people want to be a fan they better pay for every last second of his music they listen to – or else.
Prince loves to file copyright infringement lawsuits and at the start of 2014 another has landed, ready to stir up a storm as the details become known and the case develops.
Filed in the United States District Court in the Northern District of California, the lawsuit targets 22 individuals, only two of which are referenced by their real names. The others remain 'Does' although eight are indicated by their online nicknames.
Sadly, with names such as PurpleHouse2, PurpleKissTwo and NPRUNIVERSE it's difficult to see these people as anything other than Prince fans. But it is Doe 8 – THEULTIMATEBOOTLEGEXPERIENCE – that gives the clearest indication of what this lawsuit is all about.
"The Defendants in this case engage in massive infringement and bootlegging of Prince's material," the lawsuit reads.
"For example, in just one of the many takedown notices sent to Google with respect to Doe 2 (aka DaBang319), Prince identified 363 separate infringing links to file sharing services, with each link often containing copies of bootlegged performances of multiple separate musical compositions."
While it's clear by now that Prince doesn't share the same opinions as the Grateful Dead or Nine Inch Nails on bootlegs, for once a file-sharing site isn't in the cross hairs. The lawsuit says that the defendants used Facebook and Google's Blogger "to accomplish their unlawful activity", either by running fanpages or blogs and linking to live concert recordings without permission.
The complaint lists several pieces of audio offered by the defendants, concluding Prince performances from 2011 in North Carolina, 2002 in Oakland and 1983 in Chicago. Apparently even the circulation of a 31-year-old live set damages Prince's earning capability, with the singer leveling charges of direct copyright infringement, 'unauthorized fixation and trafficking in sound recordings', contributory copyright infringement and bootlegging.
"Prince has suffered and is continuing to suffer damages in an amount according to proof, but no less than $1 million per Defendant," the lawsuit reads.
Prince has a long tradition of suing anyone who dares to use his material without permission, but doesn't always carry through on his threats. A 2007 effort to sue The Pirate Bay went nowhere. This new lawsuit is likely to go much further.
Update Jan 28: Without giving any reason, Prince has now dropped the lawsuit. The dismissal was without prejudice so could be raised again in the future
Viewed 788557 times by 29339 viewers
January 5, 2014, several torrent download sites have earned kudos from our About.com readers. This list is the text version of the Visual Guide to Torrent Sites.
NOTE: this list is in random order. Special thanks to all the readers who contribute their recommendations so that this list stays current.
Submit Your Torrent Site Suggestion: you are welcome to suggest a torrent site for inclusion in this list.
Disclaimer and legal warning for new torrent users: About.com does not condone illegal sharing of copyrighted material. While P2P file sharing technology is completely legal, many of the files traded through P2P are indeed copyrighted. Uploading these copyrighted files puts you at risk of a civil lawsuit in the USA, Canada, Australia, and the UK. While these lawsuits are often class-action suits, filed against groups of users who blatantly copy and distribute copyrighted materials, some lawsuits are harshly targeted at making examples of individual downloaders. These P2P civil lawsuits are very real, and whether or not they are successful, they are extreme financial and emotional burdens on the defendant.
ISP warning: your ISP may choose to release logs of your downloading/uploading activity to potential copyright plaintiffs. The more megabytes you download, the more you risk being sued by copyright protection groups.
Torrent Download: Beginner's Guide to Torrent File Sharing.
Recommended: Protect your file-sharing identity by using a VPN connection.
Related: What It's Like to Be a Torrent P2P Administrator – See About.com's interview with Jack, the co-owner of Torlock.com.
Viewed 60349 times by 15594 viewers
A site founded by a former moderator of one of the most popular file-hosting and uploader hangouts has admitted today that his site was a honeypot setup to capture data on pirate activity. WDF, a former senior staff member at popular discussion forum WJunction, says that in the 12 months since his site went online he's been grabbing information about uploaders and file-hosts. "I suckered shitloads of you," he said today as he announced the acquisition of his site by a U.S.-based anti-piracy company.
Paranoia can be high in the file-sharing world so it will come as no surprise that there are regular rumors that site X or user Y cannot be trusted. While it's almost certain that on some sites there are staff members who don't have the community's best interests at heart, evidence of serious foul play is a rare occurrence.
Today, however, the owner of a file-sharing discussion forum confirmed that his site was actually a pirate honeypot, setup with the aim of gathering otherwise confidential information on uploaders, file-hosts and web companies involved in the piracy ecosystem. Adding insult to injury, that site and the admin's services have been acquired by a U.S.-based anti-piracy company.
WDF, real name unknown, is the founder of UploaderTalk.com, a web forum designed to attract individuals who like to make money from uploading files to file-hosting sites. Part of the idea is that they join the site and interact with others with similar aims, such as representatives from file-hosting sites touting their affiliate schemes.
UploaderTalk was founded pretty much a year ago today after WDF was banned from a similar but much larger site called WJunction, probably the largest uploader/file-hosting hangout anywhere on the web.
However, WDF wasn't any old member. After joining up to WJunction in September 2011, WDF later became a moderator then super moderator on the site, meaning that he had access to a lot of private information such as email and IP addresses. The implications for file-hosting sites and uploaders hardly need to be pointed out.
It's not clear why WDF was eventually removed from WJunction but there was clearly some kind of falling out. Shortly after WDF's departure around 12 months ago internal leaks of information from WJunction were published on the web, ostensibly from some kind of third party hack.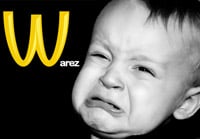 UploaderTalk reported on these leaks regularly including the November 2012 revelations by Robert King of the StopFileLockers anti-piracy campaign which claimed to contain the identities of WJunction's owners and backers.
UT, as UploaderTalk became known, was never destined to challenge WJunction as the leading site of its kind. However, in addition to its regular readers, over the past 12 months the site gathered nearly 1,000 fully signed up members of the uploading and file-hosting community. For them today's announcement will be an unpleasant one.
"UT is now closed. UT was set up for a number of reasons. But mostly to be a sounding board, proof of concept.[.].and to collect data," WDF said in a statement today.
"That's right the biggest swerve ever. I, WDF, work for the anti-piracy people! I have collected information on many of you. I collected info on file hosts, web hosts, websites."
The official announcement from WDF confirmed what many people have suspected for some time – that WDF had been playing on both sides of the fence.
"How is it I was able to protect some sites and people? Because I was working for the other side!" WDF said.
"How is it I knew so many things? Well think about it, I suckered shitloads of you. I built a history, got the trust of some very important people in the warez scene collecting information and data all the time."
It's unclear what WDF intends to do with the information obtained so far but for now it has to be presumed that he will be sharing it with his new employer, NukePiracy LLC, a company registered on October 2013 in Nashville, Tennessee.
"So what happens now? I am already working with a different ID, a new persona, and still collecting data. You never know who I will be or where I will turn up. I work for Nuke Piracy now, this is very bad for anyone profiting from piracy," WDF concludes.
Viewed 35242 times by 8422 viewers
The London School of Economics and Political Science has released a new policy brief urging the UK Government to look beyond the lobbying efforts of the entertainment industry when it comes to future copyright policy. According to the report there is ample evidence that file-sharing is helping, rather than hurting the creative industries. The scholars call on the Government to look at more objective data when deciding on future copyright enforcement policies.
Over the past years there have been ample research reports showing that file-sharing can have positive effects on the entertainment industries.
Industry lobbyists are often quick to dismiss these findings as incidents or weak research, and counter them with expensive studies they have commissioned themselves.
The London School of Economics and Political Science (LSE) jumps into the discussion this week with a media policy brief urging the UK Government to look beyond the reports lobbyists hand to them. Their report concludes that the entertainment industry isn't devastated by piracy, and that sharing of culture has several benefits.
"Contrary to the industry claims, the music industry is not in terminal decline, but still holding ground and showing healthy profits. Revenues from digital sales, subscription services, streaming and live performances compensate for the decline in revenues from the sale of CDs or records," says Bart Cammaerts, LSE Senior Lecturer and one of the report's authors.
The report shows that the entertainment industries are actually doing quite well. The digital gaming industry is thriving, the publishing sector is stable, and the U.S. film industry is breaking record after record.
"Despite the Motion Picture Association of America's (MPAA) claim that online piracy is devastating the movie industry, Hollywood achieved record-breaking global box office revenues of $35 billion in 2012, a 6% increase over 2011," the report reads.
Even the music industry is doing relatively well. Revenue from concerts, publishing and digital sales has increased significantly since the early 2000s and while recorded music revenues show a decline, there is little evidence that piracy is the lead cause.
"The music industry may be stagnating, but the drastic decline in revenues warned of by the lobby associations of record labels is not in evidence," the report concludes.
Music industry revenue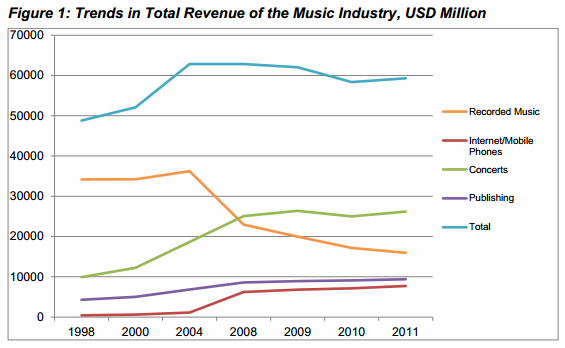 The authors further argue that file-sharing can actually benefit the creative industries in various ways.
The report mentions the success of the SoundCloud service where artists can share their work for free through Creative Commons licenses, the promotional effect of YouTube where copyrighted songs are shared to promote sales, and the fact that research shows that file-sharers actually spend more money on entertainment than those who don't share.
"Within the creative industries there is a variety of views on the best way to benefit from online sharing practices, and how to innovate to generate revenue streams in ways that do not fit within the existing copyright enforcement regime," the authors write.
Finally, the report shows that punitive enforcement strategies such as the three strikes law in France are not as effective as the entertainment industries claim.
The researchers hope that the U.K. Government will review the Digital Economy Act in this light, and make sure that it will take into account the interests of both the public and copyright holders.
This means expanding fair use and private copying exceptions for citizens, while targeting enforcement on businesses rather than individuals.
"We recommend a review of the DEA and related legislation that strikes a healthy balance among the interests of a range of stakeholders including those in the creative industries, Internet Service Providers and internet users."
"When both [the creative industries and citizens] can exploit the full potential of the internet, this will maximize innovative content creation for the benefit of all stakeholders," the authors write.
Viewed 29255 times by 6923 viewers
I use the following  for my client I prefer utorrent 2.2.1
For the sites I only use two.   Two that I have been on for over 5 years probably more like 8-10.
Anyway   1)  BITSOUP
2) Torrentleech is my other.
3)  I also have a search site that I like to use to obtain hard to find items
Viewed 47008 times by 9823 viewers
uTorrent parent company BitTorrent Inc. just announced that the BitTorrent Mainline client and uTorrent have hit the milestone of 150 million monthly users. Together both clients increased their user base by more than 50 percent compared to last year, and the end of this surge is not yet in sight.
With millions of people using BitTorrent every day, the protocol has been the leading P2P technology from more than half a decade.
Despite massive competition from cyberlockers, BitTorrent continues to expand year after year, and not just by a little. Today, BitTorrent Inc. announced that their two flagship clients increased their user base by 50 percent, to more than 150 million active users a month.
Most growth can be attributed to uTorrent, which more than quadrupled its number of monthly users in the last three years. The 'tiny' BitTorrent client went from 28 million monthly users in December 2008  to 132 million last month.
"This marks an amazing milestone for our company and we want to thank our loyal users and partners for their support. Our protocol and software clients have become some of the most pervasive pieces of technology in Internet history," says BitTorrent Inc. CEO Eric Klinker.
"We look forward to another exciting year of growth and we continue expanding our product lines to meet the needs of consumers creating and consuming high-quality personal media files on a broad range of consumer electronics devices," he adds.
The last comment ties in to a slew of other announcements released by BitTorrent today.  The company is currently showcasing several "BitTorrent Certified" devices at CES, the world's largest consumer electronics tradeshow  in Las Vegas. Through these partnerships BitTorrent hopes to add an extra revenue stream, and widen its user base beyond the traditional computer.
Aside from showing off BitTorrent-enabled routers, TVs and network storage devices, BitTorrent will also launch the world's first certified set-top box developed by the Slovakian company Antik. The set-top-box allows users to search, download and play torrent files directly on their TV.
The advantage of the  BitTorrent Certified ecosystem is that it simplifies the downloading process for less tech-savvy people. Right now, many people drop out after installing a BitTorrent client because they find it too complicated to download and play content.
Whether these devices will be a success is yet to be seen, but there is certainly a large enough user base to tap into.
Based on the 150 million active monthly users BitTorrent Inc. reports for their clients, the total number of monthly BitTorrent users can be estimated at more than a quarter billion. And despite these already dazzling numbers, there is still plenty of room for growth.
Viewed 35385 times by 7989 viewers
Most people know that BitTorrent is far from anonymous, but seeing all your recent downloads listed on a public website is still quite a revelation. This is exactly what Youhavedownloaded.com does. The developers of the site want to make people aware of the public nature of BitTorrent, and are currently working on a more anonymous version of the leading file-sharing technology.
So what have you downloaded lately?
If you're not using BitTorrent through a proxy or VPN, there's a good chance that the rest of the world can see without asking.
YouHaveDownloaded is a new Russian-based service that claims to track about 20 percent of all public BitTorrent downloads. However, they go a step further than just collecting IP-addresses and file-names by exposing all the harvested information to the public on their website.
People who visit the site immediately see their download history, as far as it's available in the site's database. In addition, they can also search for files or IP-addresses to find out who's downloading what. At the time of writing the database has information on  51,274,000 users who together shared 103,200 torrents.
TorrentFreak got in touch with Suren Ter, one of the site's founders, to find out why they decided to create this spying tool.
"We just want to remind people that the Internet is not a place to expect privacy," he says. "Nowadays many people use it without understanding what information they leave behind. Also, even those who understand choose to ignore it quite often."
The Russian developers created the site partly as a wake-up call. Those who don't want this kind of information to be public should take steps to anonymize their traffic, and do that right. This message is also reflected in the site's 'privacy policy'.
"Baby, this is the Internet. There is no such thing as privacy around here. You are sitting in the privacy of your own house, clicking links, reading stuff, watching movies. It may seem like you are pretty much alone, but smart nerds are watching you. They watch your every move. You are not human to them. You are a target — a consumer," it reads.
Jokes aside, the site does indeed make people aware of the public nature of BitTorrent, something that can't be stressed enough. Of course not everyone will be happy to see that their information is being exposed, so the developers also offer an option to de-list an IP-address.
Apart from exposing download habits the developers are also considering the creation of a more private file-sharing protocol. They already have a theoretical concept based on Bitcoin's technology, but a workable piece of software is still very far away.
"The general idea is similar to what Bitcoin does. The key is to have an anonymous and reliable identity for each peer, and a Bitcoin-like signature chain algorithm will help," Suren said.
The developers are currently trying to find out how viable their idea is, and then they'll decide whether they should continue working on it or not. For now, they'll keep on tracking dozens of millions of downloaders, for all the world to see.
Viewed 35252 times by 7822 viewers
Make no mistake, anti-piracy organizations have a thin line to tread. On the one hand they have to show their efforts yield results, and on the other that the piracy situation is so bad that they are needed more than ever. From two different mouths the RIAA has been doing that just this week but it's hard to accept that either approach yields results without being counter-productive.
Some people believe that anti-piracy groups do a hateful and cynical job, and achieve little other than negative publicity.
Others maintain that they are absolutely necessary to protect the livelihoods of the world's creative industries, and without them the world would be a worse place.
Whatever the belief held, proponents and opponents alike are nevertheless intrigued by what happens behind the closed doors of anti-piracy groups, particularly when viewed through the prism of their press announcements.
Just this week Recording Industry Association of America (RIAA) Chairman & CEO Cary Sherman commented on the White House launch of a new awareness campaign along with PSAs designed to alert the US public to the apparent perils of piracy.
"As a community still plagued by the rampant theft of our work, we have seen firsthand the devastating effects this theft can have on the lives of hard-working, passionate musicians, songwriters, producers and countless others," said Sherman.
While the RIAA's support of this type of campaign is nothing new, the last decade witnessed a much more controversial way of spreading the anti-piracy message – massive legal action which saw the music group settle with thousands of individuals for millions of dollars and sue a few unfortunate souls to within an inch of their lives for millions of dollars each.
As the RIAA previously told TorrentFreak, that legal campaign was designed to attract attention after PSAs previously run by the group were shown to make "little difference". But there are also other techniques available to the RIAA to tip the market in their favor.
During November, Tennessean.com ran an article titled Music Row spent $4 million on lobbying in 3 months in which they state that the industry's focus on lobbying "comes after the music industry's use of a tactic, now almost universally acknowledged as a failure, in which it filed lawsuits against individuals accused of illegally downloading songs to stop piracy."
So a failure then? Absolutely not, says the RIAA in a just-published response.
"Our legal efforts served as an essential educational tool: Fans know far more now about copyright laws and the legal consequences of stealing music than ever before. Before initiating lawsuits in 2003, only 35 percent of people knew file-sharing on P2P was illegal; afterward, awareness grew to 70 percent," writes RIAA Director of Communications Liz Kennedy.
"Where there was virtually no legal digital market before the lawsuits, today the market exceeds $3 billion annually, and revenue from online platforms will comprise more than 50 percent of total industry revenues this year," she continues adding that doing nothing would have meant illegal downloading would have "skyrocketed further".
The RIAA's conclusion is shown in the title of the piece – RIAA largely succeeds in goal of bringing piracy under control – but that seems scarcely compatible with Sherman's comments that the industry is being subjected to rampant theft, unless "controlled rampant theft" is something the RIAA associates with a successful outcome to an anti-piracy campaign.
While Sherman may be offering support to the new PSA's issued by the government, it's clear that from previous comments the RIAA have little faith in them. The sue-em-all campaign certainly raised awareness, but it hasn't negated the need for millions to be spent on lobbying, most recently in support of PROTECT IP and SOPA.
And here's the thing. There are few people outside the music industry (maybe even inside) who think that suing customers turned out to be a particularly clever thing to do. Similar numbers are supportive of the industry's championing of SOPA. All of this only adds credibility to the arguments of those who say that anti-piracy groups do a hateful and cynical job, and achieve little else other than generate negativity.
Worryingly, this is a view widely held by the 'Internet Generation' who are the ones expected to forget the past and utilize RIAA-sanctioned music services in the future. The cry of F*** THE RIAA didn't exist before the lawsuits and it will take a long time to forget – support of draconian SOPA-style legislation only succeeds in prolonging the memories.
Of course, the RIAA will always justify their worth, characterizing questionable former campaigns as a success but noting that there is a new crisis in the piracy war that means they're needed more than ever before.
However, all is not lost, because the RIAA already have the solution. I'll leave you with Liz Kennedy's words from The Tennessean which show that rather than throwing millions at lawyers and lobbying, maybe the RIAA should spend some time getting advice from Valve and Steam, and learning how influencing the public is really done.
"To be clear, no legal efforts are a panacea," says Kennedy, "compelling legal consumption options are the most important."
Viewed 29131 times by 6841 viewers