Posts tagged "Digital Millennium Copyright Act"
The Pirate Bay has long been a thorn in the side of copyright holders, but when Britain's record industry trade association asked Google to remove the notorious file-sharing site from its homepage, the search engine refused to comply.
The British Recorded Music Industry (BPI) has helped spearhead  efforts to reduce the visibility of piracy, having sent Google  more than 30 million requests to remove copyright offenders over  the past year, Torrent Freak reports.
The BPI, which comprises the big three record companies (Warner  Music Group, Sony Music Entertainment, and Universal Music  Group), hundreds of independents representing thousands of labels  as well as associated manufactures and distributors, is every bit  the stake holder in the anti-piracy crusade as the Recording  Industry Association of America (RIAA) in the US, albeit less  well-known stateside.
Last week, the BPI sent a Digital Millennium Copyright Act (DMCA)  notice containing over 2,000 URLs which allegedly infringe the US  law criminalizing production and dissemination of technology,  devices, or services intended to circumvent measures that control  access to copyrighted works.
The most prominent site mentioned in the request was the prolific  peer-to-peer file-sharing site The Pirate Bay, which has long  been in the crosshairs of copyright holders.
Google, however, refused to comply with the BPI's request, making  The Pirate Bay homepage the only URL in the entire notice where  no proscriptive action was taken.
The catch is that while search results on The Pirate Bay provides  links to hundreds of thousands of infringing titles, its own  homepage in fact provides no links to pirated content.
This means that while The Pirate Bay's search results pages may  not show up in the Google index, the site's homepage meets these  standards, and should not be excluded.
Google responded to the BPI request to take down thepiratebay.sx  with a resounding "No Action Taken."
Google offered the following response
Number of URLs specified in this copyright removal request  that we did not remove because we did not find the specified  copyright infringement; we already reviewed the URLs in a  previous request; or the URLs were malformed or otherwise led to  an error."
While Google might be accused of being soft on piracy, they did  in fact take down the other 29 unique domains on the BPI request,  which spans 2,055 URLS.
However, the RIAA had previously been unimpressed by the search  giant's efforts, giving it a less than stellar assessment in a  February 2013 'Report Card on Google's demotion of Pirate Sites.'
"On August 10, 2012, Google announced that it would take into  account in its search result rankings the number of valid  copyright removal notices it has received for a given site. Per  its announcement, "sites with high numbers of removal notices may  appear lower" in its search results. The result of the change  should be to "help users find legitimate, quality sources of  content more easily." Six months later, we have found no evidence  that Google's policy has had a demonstrable impact on demoting  sites with large amounts of piracy. These sites consistently  appear at the top of Google's search results for popular songs or  artists."
Torrent Freak notes that this is not the first time The Pirate  Bay has been targeted with a takedown request. Four years ago the  popular P2P site was taken down briefly after Google received a  DMCA complaint, although it was quickly reinstated.
The popular blog further noted the overall number of DMCA  requests has been on the rise over the last several months, with  the Motion Picture Association of America (MPAA) taking aim at  streaming portals with this method.
Google has thus far been unwilling to comply with many such  requests.
Viewed 32861 times by 8155 viewers
Google announced today that it will lower the search engine rankings of websites that receive a high number of DMCA takedown requests, independent of whether the linked content is lawful or not. The algorithm change is the result of extensive lobbying efforts by Hollywood and the major music labels, and could severely degrade the rankings of websites such as The Pirate Bay, FilesTube, and even YouTube.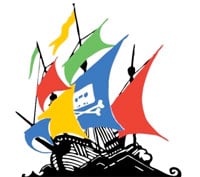 For years entertainment industry groups have lobbied search engines to penalize sites that link to a high number of copyrighted files, and today Google has given in to their demands.
The search engine will soon take into consideration the number of DMCA takedown notices it receives against sites to determine the ranking of those websites in its search results.
"Starting next week, we will begin taking into account a new signal in our rankings: the number of valid copyright removal notices we receive for any given site. Sites with high numbers of removal notices may appear lower in our results," Google's Amit Singhal writes in a blog post.
Earlier this year Google decided to publish all takedown requests online as part of their transparency report, and they will now use this data as part of their search algorithm. This means that websites for which Google receives a high number of valid takedown requests will be penalized.
The top receivers of these notices over the past year were filestube.com, extratorrent.com, torrenthound.com, bitsnoop.com and isohunt.com. They can expect to appear lower in future search results and will therefore receive less traffic through Google searches. Whether Google will downgrade YouTube, where (tens of) thousands of videos are routinely disabled because of alleged infringements, is unknown at this point.
Google stresses that it doesn't know whether content is authorized or not, so removal of pages from its search results will only take place following a valid DMCA takedown notice.
"Only copyright holders know if something is authorized, and only courts can decide if a copyright has been infringed; Google cannot determine whether a particular webpage does or does not violate copyright law," Singhal writes.
"So while this new signal will influence the ranking of some search results, we won't be removing any pages from search results unless we receive a valid copyright removal notice from the rights owner."
One of the main problems with Google's new ranking is that perfectly legitimate content on sites with a high number of takedown requests will be degraded as well. Taking YouTube as an example, millions of relevant and legal search results will be degraded simply because there are a high number of "unauthorized" videos posted to the site.
Adding the high number of bogus DMCA notices which Google sees as valid, many sites may also be punished for the faulty takedown requests that copyright holders send. That's worrying to say the least.
For Hollywood and the major music labels Google's announcement is a clear win. In fact, it was one of the three demands they handed out to Google, Bing and Yahoo last year during a behind-closed-doors meeting.
The other two demands were "prioritize websites that obtain certification as a licensed site under a recognized scheme" and "stop indexing websites that are subject to court orders while establishing suitable procedures to de-index substantially infringing sites."
Whether Google will also adopt these suggestions remains to be seen.
Viewed 32326 times by 7074 viewers
It was in July 2010, the United States government ruled that the jailbreaking and unlocking of Apple iPhones, as well as the rooting of Android devices was to be deemed a legal act, as long as the process wasn't being carried out with the intention of circumventing copyright. We ran with an article directly after the ruling was made which outlined the full details of the new DMCA legislation which once and for all set to rest the misconceptions surrounding the legalities of jailbreaking a device
Obviously, the court's decision to rule the act of jailbreaking as entirely legal was a major blow for Apple, considering they have invested so much time and money into making their devices and operating systems as secure as possible, and have always been public advocates for making jailbreaking an unlawful act. Apple understandably remained tight lipped on the situation at the time, choosing to make a short statement, which drew attention to the fact that jailbreaking, whilst officially legal, would still void any official Apple warranties:
Apple's goal has always been to insure that our customers have a great experience with their iPhone and we know that jailbreaking can severely degrade the experience. As we've said before, the vast majority of customers do not jailbreak their iPhones as this can violate the warranty and can cause the iPhone to become unstable and not work reliably.
It seems like yesterday when we were mulling all over the court's decision, and reading the updated DMCA ruling which allowed millions of jailbreak fans to rest easy that they weren't law breakers. But it seems as if that time is coming around again, with the Electronic Frontier Foundation (EFF) lobbying for users to add their electronic voice to a petition which aims to ask the United States government to declare once again that jailbreaking an iPhone does not violate the DMCA. The EFF are also asking for this initial exemption, which is set to expire, to be extended to cover tablet devices as the Apple's iPad is not currently covered in the original ruling.
Well known iOS developer, Charlie Miller, is an advocate for this change and has been alerting his Twitter followers to the petition, directing them to the EFF website to add their voice. A recent tweet by Miller makes a public plea for users to head on over to the online petition:
Want to keep jailbreaking your phone legal? Want to make jailbreaking your iPad legal? Help add exceptions to DMCA:
Judging by his follow up tweet, it would appear that a number of his followers believe that the previous ruling is permanent, and that no further action is needed to be taken, but Miller has been quick to point out that this simply isn't the case. So just why should people care whether or not the exemption was inserted into Digital Millennium Copyright Act expires or not? Well, first of all, the recent download and usage statistics which relate to the new Absinthe jailbreak tool clearly show that jailbreaking is not only still popular, but is a thriving and expanding community. Not only do we need to think about the end users who pay a large premium for the device and should ultimately have the freedom to do whatever they want with it, within the realms of the law, but a growing number of developers actually make their living from the software and tweaks which they sell on Cydia.
To allow this exemption to expire, and cast the world of jailbreaking back into the dark days would not only be a huge regressive step, but would also play a huge part in killing off innovation and development talent which we have seen flourish in the last eighteen months.
To make your voice heard, you can head on over to the Electronic Frontier Foundation website and send your comments to the Copyright Office using the links provided. All comments must be received by February 10th at 5PM Eastern Time.
Viewed 31980 times by 5982 viewers