Posts tagged "Copyright Infringement"
A site founded by a former moderator of one of the most popular file-hosting and uploader hangouts has admitted today that his site was a honeypot setup to capture data on pirate activity. WDF, a former senior staff member at popular discussion forum WJunction, says that in the 12 months since his site went online he's been grabbing information about uploaders and file-hosts. "I suckered shitloads of you," he said today as he announced the acquisition of his site by a U.S.-based anti-piracy company.
Paranoia can be high in the file-sharing world so it will come as no surprise that there are regular rumors that site X or user Y cannot be trusted. While it's almost certain that on some sites there are staff members who don't have the community's best interests at heart, evidence of serious foul play is a rare occurrence.
Today, however, the owner of a file-sharing discussion forum confirmed that his site was actually a pirate honeypot, setup with the aim of gathering otherwise confidential information on uploaders, file-hosts and web companies involved in the piracy ecosystem. Adding insult to injury, that site and the admin's services have been acquired by a U.S.-based anti-piracy company.
WDF, real name unknown, is the founder of UploaderTalk.com, a web forum designed to attract individuals who like to make money from uploading files to file-hosting sites. Part of the idea is that they join the site and interact with others with similar aims, such as representatives from file-hosting sites touting their affiliate schemes.
UploaderTalk was founded pretty much a year ago today after WDF was banned from a similar but much larger site called WJunction, probably the largest uploader/file-hosting hangout anywhere on the web.
However, WDF wasn't any old member. After joining up to WJunction in September 2011, WDF later became a moderator then super moderator on the site, meaning that he had access to a lot of private information such as email and IP addresses. The implications for file-hosting sites and uploaders hardly need to be pointed out.
It's not clear why WDF was eventually removed from WJunction but there was clearly some kind of falling out. Shortly after WDF's departure around 12 months ago internal leaks of information from WJunction were published on the web, ostensibly from some kind of third party hack.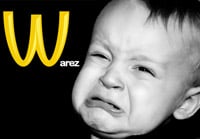 UploaderTalk reported on these leaks regularly including the November 2012 revelations by Robert King of the StopFileLockers anti-piracy campaign which claimed to contain the identities of WJunction's owners and backers.
UT, as UploaderTalk became known, was never destined to challenge WJunction as the leading site of its kind. However, in addition to its regular readers, over the past 12 months the site gathered nearly 1,000 fully signed up members of the uploading and file-hosting community. For them today's announcement will be an unpleasant one.
"UT is now closed. UT was set up for a number of reasons. But mostly to be a sounding board, proof of concept.[.].and to collect data," WDF said in a statement today.
"That's right the biggest swerve ever. I, WDF, work for the anti-piracy people! I have collected information on many of you. I collected info on file hosts, web hosts, websites."
The official announcement from WDF confirmed what many people have suspected for some time – that WDF had been playing on both sides of the fence.
"How is it I was able to protect some sites and people? Because I was working for the other side!" WDF said.
"How is it I knew so many things? Well think about it, I suckered shitloads of you. I built a history, got the trust of some very important people in the warez scene collecting information and data all the time."
It's unclear what WDF intends to do with the information obtained so far but for now it has to be presumed that he will be sharing it with his new employer, NukePiracy LLC, a company registered on October 2013 in Nashville, Tennessee.
"So what happens now? I am already working with a different ID, a new persona, and still collecting data. You never know who I will be or where I will turn up. I work for Nuke Piracy now, this is very bad for anyone profiting from piracy," WDF concludes.
Viewed 34567 times by 8313 viewers
The start of the fourth season of "The Walking Dead" has resulted in a worldwide piracy craze. More than half a million people downloaded a copy of the show during the first few hours following its premiere, despite efforts to minimize the release lag to 24 hours in 125 countries. Fox had hopes that the global release would curb online piracy but thus far there is little evidence that this is the case, not even in the U.S. where AMC streams the show for free.
Viewed 20061 times by 4055 viewers
I've been a digital media analyst pretty much as long as mainstream music piracy has been around.  I've tracked the rise and fall of many sites, services, networks, applications and protocols, including MP3.com, Napster, Music City Morpheus, iMesh, Audio Galaxy, Bear Share, eMule, Gnu Network, Kazaa, Limewire, Pirate Bay, Rapidshare, Megaupload etc etc.  The point I'm trying to make – other than my career's slightly concerning alignment with the rise of music's grey market – is that the sector is built upon reinvention.  And that power of reinvention is the key reason why the music industry has a bigger piracy now than it has ever had before.
Of course there are statistics that suggest the file sharing is on the wane in a few markets – notably Germany – but overall the problem is getting bigger because:
Non-network piracy is in the ascendency. P2P is declining in importance as a medium for piracy.  Non-network sharing (hard drive swapping, darknets, Bluetoothing, mini-nets, digital lockers, forums, binary groups, Instant Messaging, music blogs) are collectively more widely adopted than P2P in many major markets and are growing fast.  All tactics of course which are much more difficult to track and police than P2P
P2P is getting smarter.  And for those who still do use P2P there is an ever growing array of tools at their disposal that make it harder for their activity to be tracked, ranging from encrypted versions of mainstream P2P apps through to the Pirate Bay's current shift from Torrents to Magnets
Of course media industries are upping their game too, with major legislative efforts in the US, UK and France, though all with mixed levels of success.   The lesson of the last decade plus though, is of course that whatever actions the media companies take, the piracy problem will be more than a step ahead.  Legislation, judiciary process and enforcement are all slow moving beasts.  Typically by the time media industries catch up technology and consumer needs have moved on.  For example the Pirate Bay looks like it could be blocked from consumers in the UK but a quick search on Google for the name of your content of choice followed by the word 'torrent' will serve you up an exhaustive list of alternatives.  Pirate Bay simply isn't needed anymore.
Do we have the right services?
All of these dynamics are probably familiar to most, but I think we may be on the verge of something very different and of far greater concern for rights holders.  One of the key reasons – some would argue *the*key* reason – piracy is still growing is because the $0.99 cent download and the heavily delayed movie release  simply don't appeal to most digital consumers.  US VC Fred Wilson recently stated in a Paley Centre debate that 'we are all pirates' and that if '99% of people are breaking the law then it is the wrong law'.  My twist on that statement would be that if '99% of people aren't using the services that they are the wrong services'. (Of course more than 1% use legitimate services but we are still talking about a nice minority).
Don't get me wrong, we have some absolutely fantastic services out there for the current installed base of digital music customers, but they are patently not the right services for majority of consumers who account for the 95% of total downloads which are illegal (according to the IFPI).  Regular readers will know that I have been building a case for a music format revolution (you can download my Music Format Bill of Rights report here for free).   There are some really promising first steps happening from some promising start ups but rights complexities are acting as a major decelerator on innovation in this space.
What happens if digital piracy starts to learn from the mobile App revolution?
Of course the grey market has no such problem.  They only ever concern themselves with rights issues if they get taken to court or decide to try to go legit (Napster, Limewire, iMesh, Kazaa etc).  To date the focus of piracy technology has been evading the music industry.  But now, with the revolution in high quality user experiences that the App market has created, there is a very real risk that much of this ethos will bleed through to the grey market.  Indeed there is undoubtedly some direct overlap between the App developer community and the piracy developer community.
The nightmare scenario for media companies is that the pirates turn their attentions to developing great user experiences rather than just secure means of acquiring content.  What if, for example, a series of open source APIs were built on top of some of the more popular file sharing protocols so that developers can create highly interactive, massively social, rich media apps which transform the purely utilitarian practice of file sharing into something fun and engaging?  If you though the paid content market was struggling now imagine how it would fare in the face of that sort of competition.
In the longer term one could hope that such a scenario would act as an accelerator for liberalization and innovation of rights owner practices, but in the nearer term it would be a death knell for many of the current services that have worked so hard to get achieve what they have within often suffocating confines.
Content monetization strategies need reworking too
I've said it many times before and I'll say it again now, and many times again: fighting piracy requires a big fat carrot to go along with the stick.  More than 300 $0.99 download stores in Europe and North America alone is not a carrot.  Now is the time to give the legitimate sector the tools, licenses and support to innovate like never before.  It is also time to recognize that just because piracy users don't always spend money does not mean that they are not spending.  In the digital age consumers transact in three equally valuable currencies:  Money, Data and Time. Those currencies however are not equally valuable to all industries (e.g. TV broadcasters value time more than record labels, online newspapers value data more than book publishers etc) But it is time for those three currencies to be equally tapped by digital content strategies across all industries (regardless of whether that currency is valuable to them), with supporting 'virtual commodities' trading marketplaces in the backend to ensure that all stakeholder ultimately end up getting paid in the currencies they value most.
Unless user experiences and monetization strategies are innovated beyond recognition then the grey market will do it instead, creating a wave of digital piracy that will do for media revenues what the iPhone did for Nokia's smartphone business.
Viewed 52041 times by 7022 viewers
Police in three European countries have carried out an operation to disrupt two scene release groups said to be responsible for pre-releasing thousands of movies onto the Internet. The action, which focused on datacenters and home addresses across Germany, Switzerland and Hungary, targeted the leaders and equipment of CRUCiAL and iNSPiRED.
Following years of investigation into online piracy, in September 2009 the German Federation against Copyright Infringement (GVU) filed a complaint with the prosecutor in Frankfurt, Germany.
Their complaint centered on a pair of movie-focused release groups known as CRUCiAL and iNSPiRED. Following their creations in 2008 and 2006 respectively, GVU claimed that together the groups had released as many as 2,600 DVD and Blu-ray ripped movies online, many of them in advance of their street dates.
The GVU now say their investigation has borne fruit, with the initiation late last month of an international police operation against the leaders of the groups.
Under the control of police headquarters in Frankfurt, on November 29th raids were carried out against several private homes in Germany and computer datacenters in Switzerland and Hungary.
GVU said that pinning the groups' servers down had proven problematic, since they had been supplied through resellers and rented under false names. Nevertheless, a 180TB Swiss server and a 30TB Hungarian server were both seized along with various computers and hard drives from locations in Germany.
According to the GVU complaint, CRUCiAL were responsible for running the server and obtaining source material from, among other places, two other Scene groups based in the United States.
Back home in Germany, the group was affiliated with 10 other groups who released the same movies online in different file formats.
The GVU investigation is said to have concluded that CRUCiAL were the source of the first DVD-quality Harry Potter and the Half-Blood Prince leak which had been ripped from a forensically-watermarked copy intended for Scandinavia. GVU say the DVD was physically stolen from an Austrian pressing plant at the behest of CRUCiAL's leader. Copies of the movie then reportedly turned up on Kino.to, the now-defunct streaming movie portal raided earlier this year.
According to Scene records, both groups stopped releasing in an official capacity in 2010, iNSPiRED in May, CRUCiAL in September, with the former handing the 'rights' to their TV show releases to a pair of other groups. Both these new groups made their latest releases just today.
Viewed 19730 times by 4058 viewers