Posts tagged "Copyright"
A site founded by a former moderator of one of the most popular file-hosting and uploader hangouts has admitted today that his site was a honeypot setup to capture data on pirate activity. WDF, a former senior staff member at popular discussion forum WJunction, says that in the 12 months since his site went online he's been grabbing information about uploaders and file-hosts. "I suckered shitloads of you," he said today as he announced the acquisition of his site by a U.S.-based anti-piracy company.
Paranoia can be high in the file-sharing world so it will come as no surprise that there are regular rumors that site X or user Y cannot be trusted. While it's almost certain that on some sites there are staff members who don't have the community's best interests at heart, evidence of serious foul play is a rare occurrence.
Today, however, the owner of a file-sharing discussion forum confirmed that his site was actually a pirate honeypot, setup with the aim of gathering otherwise confidential information on uploaders, file-hosts and web companies involved in the piracy ecosystem. Adding insult to injury, that site and the admin's services have been acquired by a U.S.-based anti-piracy company.
WDF, real name unknown, is the founder of UploaderTalk.com, a web forum designed to attract individuals who like to make money from uploading files to file-hosting sites. Part of the idea is that they join the site and interact with others with similar aims, such as representatives from file-hosting sites touting their affiliate schemes.
UploaderTalk was founded pretty much a year ago today after WDF was banned from a similar but much larger site called WJunction, probably the largest uploader/file-hosting hangout anywhere on the web.
However, WDF wasn't any old member. After joining up to WJunction in September 2011, WDF later became a moderator then super moderator on the site, meaning that he had access to a lot of private information such as email and IP addresses. The implications for file-hosting sites and uploaders hardly need to be pointed out.
It's not clear why WDF was eventually removed from WJunction but there was clearly some kind of falling out. Shortly after WDF's departure around 12 months ago internal leaks of information from WJunction were published on the web, ostensibly from some kind of third party hack.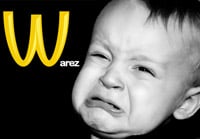 UploaderTalk reported on these leaks regularly including the November 2012 revelations by Robert King of the StopFileLockers anti-piracy campaign which claimed to contain the identities of WJunction's owners and backers.
UT, as UploaderTalk became known, was never destined to challenge WJunction as the leading site of its kind. However, in addition to its regular readers, over the past 12 months the site gathered nearly 1,000 fully signed up members of the uploading and file-hosting community. For them today's announcement will be an unpleasant one.
"UT is now closed. UT was set up for a number of reasons. But mostly to be a sounding board, proof of concept.[.].and to collect data," WDF said in a statement today.
"That's right the biggest swerve ever. I, WDF, work for the anti-piracy people! I have collected information on many of you. I collected info on file hosts, web hosts, websites."
The official announcement from WDF confirmed what many people have suspected for some time – that WDF had been playing on both sides of the fence.
"How is it I was able to protect some sites and people? Because I was working for the other side!" WDF said.
"How is it I knew so many things? Well think about it, I suckered shitloads of you. I built a history, got the trust of some very important people in the warez scene collecting information and data all the time."
It's unclear what WDF intends to do with the information obtained so far but for now it has to be presumed that he will be sharing it with his new employer, NukePiracy LLC, a company registered on October 2013 in Nashville, Tennessee.
"So what happens now? I am already working with a different ID, a new persona, and still collecting data. You never know who I will be or where I will turn up. I work for Nuke Piracy now, this is very bad for anyone profiting from piracy," WDF concludes.
Viewed 34320 times by 8271 viewers
New tax records reveal that the Center for Copyright Information, the outfit overseeing the "six strikes" copyright alert system in the U.S., costs $2 million a year to run. This previously undisclosed  sum is shared between the RIAA, MPAA and the five participating Internet providers. The true cost of the copyright alert system is expected to be millions more, as the copyright holders and ISPs pay separately for tracking the alleged pirates and processing the warnings.
Two years ago the MPAA and RIAA teamed up with five major Internet providers to announce their "six strikes" anti-piracy plan.
The parties founded the Center for Copyright Information (CCI) which is incorporated as a non-profit company of the same name in Delaware.
While the CCI has been very clear about its goals, information on its finances has been scarce. In the memorandum of understanding the copyright holders and ISPs agreed to split the costs of the company 50/50, but the exact figures remained unknown.
When we previously asked about total operating costs CCI declined to answer. Luckily the IRS was more helpful, so after two years we can now finally lift the financial veil.
TorrentFreak obtained the most recent tax filing of the six-strikes outfit which covered the first eight months of the company's operations to June 30, 2012.
During this time the ISPs and copyright holders paid a total of $1,377,633 in membership dues, which means that it costs around $2 million per year to keep the company afloat.
The $2 million figure makes sense since the RIAA previously mentioned in its tax filing that it spent $250,000 in CCI membership dues up until March 2012. This would cover half of the $500,000 it would owe per year.
The CCI tax filing further shows that Executive Director Jill Lesser is the only key employee, and that she earned a very modest $43,750 during the first eight months. Looking more closely, we see that Lesser indirectly earns a bit more as $193,750 was paid to her consulting firm JAL Consulting.
The filing further shows that the six-strikes outfit paid $144,093 to their PR firm Glover Park Group, $125,691 for Resource Global's consulting services, as well as $102,928 in legal fees.
All in all there aren't too many surprises in the tax filing, although it's worth knowing how much the six-strikes copyright alert system costs.
It's not known whether the $2 million in membership dues for the first year is a fixed amount, so it may fluctuate from year to year. Also, it's worth noting that the costs above only apply to the CCI organization. The copyright holders and ISPs incur extra costs when they track down infringers and process the notices.
In other words, copyright holders and ISPs are likely to spend double or triple the previously mentioned $2 million on the entire six-strikes system.
Now that the first accounts are in we encourage the CCI to also share some data on how many people have received a copyright alert to date. But whatever that number is, for now the copyright alerts have failed to make a dent in traffic to file-sharing sites.
Viewed 20646 times by 4119 viewers
While headlines this week are focused on U.S. News and World Report's newest college rankings, there is another ranking making the rounds that universities probably don't want to be at the top of.
TorrentFreak released Monday a list of schools with the most BitTorrent downloads for 2013. Topping the chart is the Massachusetts Institute of Technology (perhaps not surprisingly, TorrentFreak writes), with 1,935 recorded "hits" of torrenting activity. Rutgers, New York University, University of Houston and Texas A&M followed, all having at least 900 downloads.
Torrents allow users to share large files online, though they might best be known for the copyrighted content people illegally distribute through them. Searching a popular torrent website can quickly yield free copies of everything from the week's top albums to libraries of classic films.
Because everything that's transferred via torrent is public online, it's easy to trace where the files originate from, says the list's author and TorrentFreak's founder, who writes under the pseudonym Ernesto Van Der Sar.
"Traditionally there has been a lot of talk about downloading at universities and colleges, and legislation in the U.S., which tries to prevent it as much as possible," he says. "Entertainment companies are pushing the universities to educate their students about copyright and that they shouldn't download illegally."
These numbers are relatively small, Van Der Sar says, because of pressure on colleges and universities to report and punish students caught spreading illegal content. Colleges often warn students the first time they're caught, he says, but punishments can escalate up to suspension or expulsion
Viewed 22736 times by 6298 viewers
Google announced today that it will lower the search engine rankings of websites that receive a high number of DMCA takedown requests, independent of whether the linked content is lawful or not. The algorithm change is the result of extensive lobbying efforts by Hollywood and the major music labels, and could severely degrade the rankings of websites such as The Pirate Bay, FilesTube, and even YouTube.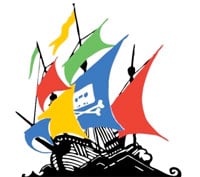 For years entertainment industry groups have lobbied search engines to penalize sites that link to a high number of copyrighted files, and today Google has given in to their demands.
The search engine will soon take into consideration the number of DMCA takedown notices it receives against sites to determine the ranking of those websites in its search results.
"Starting next week, we will begin taking into account a new signal in our rankings: the number of valid copyright removal notices we receive for any given site. Sites with high numbers of removal notices may appear lower in our results," Google's Amit Singhal writes in a blog post.
Earlier this year Google decided to publish all takedown requests online as part of their transparency report, and they will now use this data as part of their search algorithm. This means that websites for which Google receives a high number of valid takedown requests will be penalized.
The top receivers of these notices over the past year were filestube.com, extratorrent.com, torrenthound.com, bitsnoop.com and isohunt.com. They can expect to appear lower in future search results and will therefore receive less traffic through Google searches. Whether Google will downgrade YouTube, where (tens of) thousands of videos are routinely disabled because of alleged infringements, is unknown at this point.
Google stresses that it doesn't know whether content is authorized or not, so removal of pages from its search results will only take place following a valid DMCA takedown notice.
"Only copyright holders know if something is authorized, and only courts can decide if a copyright has been infringed; Google cannot determine whether a particular webpage does or does not violate copyright law," Singhal writes.
"So while this new signal will influence the ranking of some search results, we won't be removing any pages from search results unless we receive a valid copyright removal notice from the rights owner."
One of the main problems with Google's new ranking is that perfectly legitimate content on sites with a high number of takedown requests will be degraded as well. Taking YouTube as an example, millions of relevant and legal search results will be degraded simply because there are a high number of "unauthorized" videos posted to the site.
Adding the high number of bogus DMCA notices which Google sees as valid, many sites may also be punished for the faulty takedown requests that copyright holders send. That's worrying to say the least.
For Hollywood and the major music labels Google's announcement is a clear win. In fact, it was one of the three demands they handed out to Google, Bing and Yahoo last year during a behind-closed-doors meeting.
The other two demands were "prioritize websites that obtain certification as a licensed site under a recognized scheme" and "stop indexing websites that are subject to court orders while establishing suitable procedures to de-index substantially infringing sites."
Whether Google will also adopt these suggestions remains to be seen.
Viewed 31941 times by 7009 viewers
Is piracy really destroying the entertainment industry? Techdirt blogger Mike Masnick doesn't think so, and he has some numbers to prove it. Masnick and his Floor64 colleague Michael Ho released a report titled "The Sky Is Rising" at the Midem music industry convention in Cannes Monday that shows how the global entertainment industry actually grew by 50 percent in the last decate, despite Napster, BitTorrent & Co.
The report was commissioned by the Computer & Communications Industry Association, which counts companies like Google and Facebook as its members. It's definitely worth a read (check out the full PDF) and will likely provoke lots of discussion, especially in light of the entertainment industry's ongoing push for tougher copyright laws.
Viewed 43592 times by 7609 viewers