Posts tagged "Bluetooth"
The AwoX StriimLight B-10 sounds crazier than it actually is. It's a lightbulb, and it's also a Bluetooth speaker. You screw it in, pair it to a device, and stream music to an 8W LED lightbulb. The light socket powers both the speaker and the bulb, so the latter has to be screwed into a socket for the speaker to work.
This is a better lightbulb than it is a speaker. It produces bright and warm-looking 3000K light that resembles the output of a fluorescent tube. It'll screw into any E27 Edison mount, and we had successful results with three different lamps in the WIRED New York office.
As you'd expect, the speaker is not very good. A single 2-inch, 10W mono speaker in the middle of the LED lamp kicks out mediocre, bass-bereft audio. But those shortcomings are forgivable as the StriimLight leans heavily on gestalt principles.
Pairing it to a device is a simple process: You turn the bulb on, it beeps twice when it's discoverable, and then you find the "StriimLIGHT" on your device's pairing menu. Turning the lamp on and off restarts the discovery process if you have trouble finding the bulb in its Bluetooth menu; it's basically a hard reboot of the bulb.
One little perk is that the StriimLight comes with its own remote control. The included plastic watch-battery-powered clicker is made of plastic, and lets you turn the light on and off, turn the speaker volume up and down, and mute the audio entirely.
Unlike your average lightbulb, this one begs to move around a lot. You'll want to screw it into a socket on the porch, in the bathroom, or in the bedroom so you can listen to some music wherever you happen to be. But the StriimLight heats up pretty quickly, and you need to let it cool down for a minute or two before unscrewing it and carrying it around. After initial setup, we used it for about 20 minutes (both as a light and as a speaker) before wanting to take it out and test it in another lamp. Both the speaker grille and the bulky construction underneath it were very hot to the touch. So it's portable, but only after a cool-down period.
Unlike "smart" LED bulbs like the LIFX and Philips Hue system (both of which cost around the same price and don't have built-in speakers), the StriimLight doesn't change colors or offer control via a mobile app. It's a lightbulb, and it's also a Bluetooth speaker. That's it.
The idea behind the StriimLight isn't as goofy as it sounds. It certainly isn't an essential product, but it's an early and interesting sign of where consumer electronics are headed over the next few years.
Namely, we're in the thick of an era where single-purpose devices are on the way out. Our phones have also been our cameras, MP3 players, and remote controls for years now. The next slew of convergence will take place in our homes, inside now-mundane pieces of hardware. Our fridges will also be Wi-Fi routers, our side tables will also be wireless charging devices, and our lightbulbs (and showerheads) will also be Bluetooth speakers.
At $100, the StriimLight is too expensive. It doesn't sound good enough to justify the price. But would $100 be too expensive for a speaker/lightbulb with better audio quality and app-adjustable colors? Or one that doubled as a Wi-Fi repeater or cell-signal booster? Mull it over while you listen to our Spotify playlist for Bluetooth Lightbulbs:
Viewed 23956 times by 5874 viewers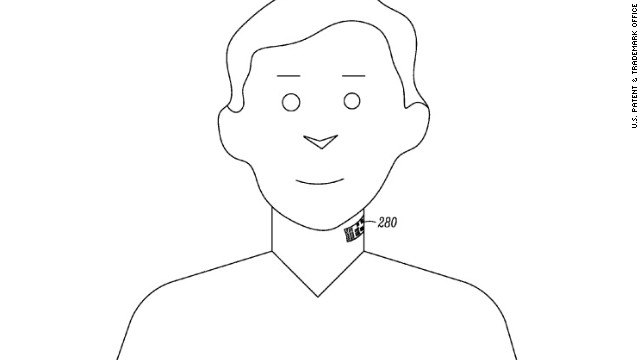 A new patent says an electronic tattoo could be attached to a user's throat or on a collar.
CNN) — It looks like Google Glass was just the beginning. Google now appears to be aiming a few inches lower, working on a temporary electronic tattoo that would stick to the user's throat.
Google-owned Motorola Mobility has filed for a patent, published last week, for a system "that comprises an electronic skin tattoo capable of being applied to a throat region of a body."
The patent says the tattoo would communicate with smartphones, gaming devices, tablets and wearable tech like Google Glass via a Bluetooth-style connection and would include a microphone and power source. The idea is that wearers could communicate with their devices via voice commands without having to wear an earpiece or the the Glass headset.
And how's this for future tech? It could even be used as a lie detector.
"Optionally, the electronic skin tattoo can further include a galvanic skin response detector to detect skin resistance of a user," the 10-page document reads. "It is contemplated that a user that may be nervous or engaging in speaking falsehoods may exhibit different galvanic skin response than a more confident, truth telling individual."
"Galvanic" is a reference to the way some surfaces, even skin, conduct electricity.
In images attached to the filing, the tattoo appears to be between a postage stamp and a Band-Aid in size. The filing says that in addition to sticking via an adhesive to the throat, the tattoo could go on a collar or a band around the user's neck.
Other possible uses include making both incoming and outgoing audio clearer. That could mean anything from making smartphone conversations clearer in a crowded room to being able to listen to music without earphones.
And we can't quite figure out the use case for this one, but: "the electronic tattoo can also be applied to an animal as well."
Digital tattoos and mind-reading headphones
With Google Glass, the company has moved to be at the forefront of the rapidly emerging trend in wearable tech. Glass is a wearable computer with a smartphone-like display that lets users text, browse the Web, take photos and run other apps, all hands free.
The latest version rolling out to field testers includes an ear bud, in response to complaints from some that the first version's bone-conduction sound system didn't work well. It's not hard to envision the throat tattoo as an eventual answer to that complaint.
Other wearable tech either on the market or the horizon includes smartwatches from Samsung and Sony, with Google, Apple and Microsoft expected to join the fray soon.
A Motorola spokesman said the company has no comment about the patent filing at this time.
YouTube faces backlash for Google+ integration
Viewed 33446 times by 6324 viewers
AT&T has announced that it will begin selling the Pebble smartwatch starting September 27th.
It's time to rethink what a watch can be. As the most successful KickStarter campaign to date, the Pebble smartwatch extends control of your iOS or Android smartphone while giving you options to customize with apps for an active lifestyle.  Beginning September 27, AT&T customers can purchase the Pebble for $150 at att.com and in select retail stores with broader availability expected in October.
The Pebble smartwatch is a customizable, Bluetooth enabled smartwatch that wirelessly connects to your smartphone. Call alerts, emails, and text notifications all appear on the Pebble as they arrive to your phone. No need to pull out your smartphone to see who is trying to get your attention. Perfect for runners, cyclists, golfers or anyone with a busy or active lifestyle, the e-paper display makes the watch incredibly easy to read whether indoors or outside and it's water resistant to boot. Users can also download applications onto their Pebble from a host of third party developers.
"As the exclusive carrier for the hot new Pebble smartwatch, this innovative device adds to AT&T's extensive lineup of industry leading accessories for today's connected world," said Michael Cowan, Director, Accessory Portfolio, AT&T Mobility. "This smartwatch is fun, practical, and easy to use. It is simple to see why people have been clamoring to get their hands on it."
Features:
● Press a button to change the watchface to fit your personal style. Download new watchfaces and applications, or design your own through existing third party sites.
● Great line-up of pre-loaded and downloadable apps perfect for runners, cyclists, golfers or those who are just busy.
● Music is only a click away. Play, pause, or skip tracks on your phone with simple controls on Pebble. Glance down at your watch to see the artist and the track name that is playing without missing a beat.
● Custom notifications keep you informed without being a distraction. Incoming caller ID, calendar alerts, social media messages, weather alerts and more.
● Rechargeable battery can last up to seven days.
● Water resistant rated 5ATM.
Viewed 33453 times by 6441 viewers