Uncategorized
The Microsoft Certified Solutions Expert (MCSE): Server Infrastructure certification validates your ability to build comprehensive server infrastructure solutions. Show that you have the skills needed to run a highly efficient and modern data center, with expertise in identity management, systems management, virtualization, storage, and networking.
Need to upgrade your certification?
Full site: http://www.microsoft.com/learning/en/us/certification/mcse-server-infrastructure.aspx
Viewed 8811 times by 1263 viewers
Pirate Bay founder Gottfrid Svartholm has been arrested in the Cambodian capital Phnom Penh.  Svartholm, known online by his nickname Anakata, was sentenced to one year in jail for his involvement in The Pirate Bay but has been missing for some time.  Svartholm was wanted internationally but exact details as to why he was arrested have not yet been made public.
Viewed 8600 times by 1486 viewers
In advance of one of the most significant waves of product launches in Microsoft's history, Microsoft is unveiling a new logo for the company.
Microsoft Chief Marketing Officer Chris Capossela opens the Microsoft Store in Boston, which dons the company's new logo, on Aug. 23, 2012.
Click logo for larger view or here for Print quality
The logo has two components: the logotype and the symbol. For the logotype, we are using the Segoe font which is the same font we use in our products as well as our marketing communications. The symbol is important in a world of digital motion (as demonstrated in the video above.) The symbol's squares of color are intended to express the company's diverse portfolio of products.
Starting today, you'll see the new Microsoft logo being used prominently. It will be used on Microsoft.com – the 10th most visited website in the world. It is in three of our Microsoft retail stores today (Boston, Seattle's University Village and Bellevue, Wash.) and will shine brightly in all our stores over the next few months. It will sign off all of our television ads globally. And it will support our products across various forms of marketing. Fully implementing a change like this takes time, so there may be other instances where you will see the old logo being used for some time.
Nice logo overview from Seattle Times
Viewed 7730 times by 978 viewers
Google announced today that it will lower the search engine rankings of websites that receive a high number of DMCA takedown requests, independent of whether the linked content is lawful or not. The algorithm change is the result of extensive lobbying efforts by Hollywood and the major music labels, and could severely degrade the rankings of websites such as The Pirate Bay, FilesTube, and even YouTube.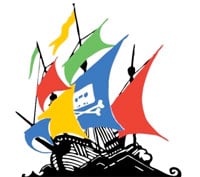 For years entertainment industry groups have lobbied search engines to penalize sites that link to a high number of copyrighted files, and today Google has given in to their demands.
The search engine will soon take into consideration the number of DMCA takedown notices it receives against sites to determine the ranking of those websites in its search results.
"Starting next week, we will begin taking into account a new signal in our rankings: the number of valid copyright removal notices we receive for any given site. Sites with high numbers of removal notices may appear lower in our results," Google's Amit Singhal writes in a blog post.
Earlier this year Google decided to publish all takedown requests online as part of their transparency report, and they will now use this data as part of their search algorithm. This means that websites for which Google receives a high number of valid takedown requests will be penalized.
The top receivers of these notices over the past year were filestube.com, extratorrent.com, torrenthound.com, bitsnoop.com and isohunt.com. They can expect to appear lower in future search results and will therefore receive less traffic through Google searches. Whether Google will downgrade YouTube, where (tens of) thousands of videos are routinely disabled because of alleged infringements, is unknown at this point.
Google stresses that it doesn't know whether content is authorized or not, so removal of pages from its search results will only take place following a valid DMCA takedown notice.
"Only copyright holders know if something is authorized, and only courts can decide if a copyright has been infringed; Google cannot determine whether a particular webpage does or does not violate copyright law," Singhal writes.
"So while this new signal will influence the ranking of some search results, we won't be removing any pages from search results unless we receive a valid copyright removal notice from the rights owner."
One of the main problems with Google's new ranking is that perfectly legitimate content on sites with a high number of takedown requests will be degraded as well. Taking YouTube as an example, millions of relevant and legal search results will be degraded simply because there are a high number of "unauthorized" videos posted to the site.
Adding the high number of bogus DMCA notices which Google sees as valid, many sites may also be punished for the faulty takedown requests that copyright holders send. That's worrying to say the least.
For Hollywood and the major music labels Google's announcement is a clear win. In fact, it was one of the three demands they handed out to Google, Bing and Yahoo last year during a behind-closed-doors meeting.
The other two demands were "prioritize websites that obtain certification as a licensed site under a recognized scheme" and "stop indexing websites that are subject to court orders while establishing suitable procedures to de-index substantially infringing sites."
Whether Google will also adopt these suggestions remains to be seen.
Viewed 9494 times by 1506 viewers
The moon is about to become crowded.
In the next few years a slew of countries, including China, India, and Japan, are looking to put unmanned probes on the lunar surface. But more unprecedented are the 26 teams currently racing to win the Google Lunar X Prize – a contest that will award $20 million to the first private company to land a robot on the lunar surface, travel a third of a mile, and send back a high-definition image before 2015.
With all this activity, NASA is somewhat nervous about its own lunar history. The agency recently released a set of guidelines that aim to preserve important heritage locations such as the Apollo landing and Ranger impact sites. The report, available since 2011 to members of the private spaceflight community, was publicly posted at NASA's website and officially accepted by the X Prize foundation on May 24.
"NASA has recognized that these sites are important to mankind and have to be protected to make sure there's no undue damage done to them," said John Thornton, president of Astrobotic Technology Inc., a company competing for the prize.
Though NASA has no way of enforcing the requirements, they are designed to protect materials and scientific equipment at historical lunar sites as well as future landing sites. The guidelines have been made available internationally, and the agency welcomes other nations to participate in and improve upon them, said NASA spokesperson Joshua Buck in an e-mail.
NASA is asking anyone that makes it to the lunar surface to keep their landing at least 1.2 miles away from any Apollo site and about 1,600 feet from the five Ranger impact sites. The distance should keep the old equipment safe from a terrible accident or collision. It will also would put the new equipment "over the lunar horizon" relative to the relics, and prevent any moon dust – known to be a highly abrasive material – from sandblasting NASA's old machines.
The Apollo 11 and 17 sites — the first and last places visited by man — are singled out in particular for extra care and respect. Robots are prohibited from visiting both sites and are requested to remain outside a large radius (250 feet for Apollo 11 and 740 feet for Apollo 17) to prevent a stray rover from accidentally harming hardware or erasing any footprints.
"Only one misstep could forever damage this priceless human treasure," reads the report.
Looking toward a possible high-traffic lunar future, the report also warns that frequent and repeated visits would have a cumulative and irreversible degrading effect on the historical sites. Other guidelines ask that rovers avoid kicking dust onto existing scientific experiments, like the laser-ranging lunar reflectors that are used to measure the distance between the Earth and moon.
Once a team has successfully landed, both the guidelines and the Google Lunar X Prize actually encourage them to go near some of the historic landing sites. The X Prize will award an extra $4 million to any company that can snap photos of a man-made object on the moon, including the Soviet Lunokhod rovers. And NASA has placed less restrictive protective radii around their other Apollo-era sites and artifacts, asking that robots merely remain three to nine feet from flags, tools, storage bags, and other pieces.
There is currently little data on what sitting for 40 plus years on the lunar surface does to man-made objects. The moon is an extreme environment, with wild temperature swings and full-on exposure to solar radiation, dust, and micrometeorites, all of which could severely weather materials.
Scientists and engineers are eager to obtain some before and after shots of artifacts that have been exposed to the elements for so long. It could give them insight into building future long-term structures on the moon, such as manned bases or mining operations.
Though the guidelines come from NASA, the agency worked with members of the private spaceflight community before releasing them, said Robert Richards, founder of two companies competing for the Lunar X Prize, Moon Express, Inc. and Odyssey Moon Limited.
"It's not a decree, we were able to participate and comment," he said. Richards added that the instructions simply reflect common sense, decency, and respect for other people's property on the moon.
Viewed 10587 times by 954 viewers
While most of its rivals are struggling to match innovations Apple pioneered with its first MacBook Airs over three years ago, the Mac maker this year is hoping to further distance itself from the competition with a pair of radically redesigned professional offerings that will set the tone for the next wave of notebook computing.
Macbook Pro is a functional pc and a macbook air is a glorified Ipad. 
I bought the macbook pro. 
.
Viewed 26417 times by 1732 viewers
http://www.certified-easy.com/
This site provides   YES!!!  latest available Free EBooks on chm/pdf/zip versions and Free Online Ebooks in html format. Also they provide latest ebook sample chapters and tutorials. They do not host any copyrighted materials. All the links in here are provided by publishers or authors on their websites legally and free of charge and links that submitted by visitors.
Viewed 4426 times by 868 viewers
At today's CES keynote Qualcomm's CEO Dr. Paul E. Jacobs just said that consumers bought approximately $1.3 trillion dollars work of mobile devices last year. Trillion. With a T. That's about 8.5% of the U.S. National Debt. Dang.
Samsung Sells Two TVs Every Second of Every Day
Either one guy is buying hundreds of thousands of Samsung teevees a day to rig the stats, or we're collectively Samsung-crazed in our television choices. According to President Boo-Keun Yoon, the company moves two sets per second, globally.
I'm no math wizard, but given population figures I'm guessing a lot of people are buying TVs for their parents and dogs and closets and spare TVs to use as coffee tables
Viewed 4289 times by 918 viewers
2012 is thought to be the year of the Ultrabook, but though these slim machines may prove successful they can't disguise one odd fact: The laptop is a dead design. When will it actually pass away and leave room for a future device?
Intel has been pushing a reference design on Eastern manufacturers for months now, and the pressure is finally paying off. Maker after maker has revealed its own take on what's dubbed the Ultrabook. Consumers may be pleased by the focus on high design, Intel will be pleased it has a new vehicle for its processors, and manufacturers will be pleased they have a seemingly new toy to promote and sell for profit. The Wall Street Journal has even written a piece on them: "For PCs, Hope in a Slim Profile," and they're predicted to be everywhere at CES 2012. The thing is the Ultrabook isn't new, nor is it revolutionary. It's proof that the laptop is now an evolutionary dead end in computer history.
A lightweight PC with long battery life, petite format, and full-featured PC functionality … that's a rough description of an Ultrabook. Remember this, we'll come back to it. But in essence the Ultrabook is a MacBook Air, only slightly more typically PC-like, and sporting some flavor of Microsoft Windows 7 aboard it as its OS. In the Mac versus PC war, this is perhaps the most complete example of a Mac design being cloned into a PC design paradigm–so much so that some Ultrabooks to be released are sure to attract the attention of Apple's IP lawyers, so similar are they in shape, format, arrangement of ports and sockets, and color.
Apple's innovation was to build an all-metal chassis (which actually permits the shape to be slimmer due to its monocoque structure) around a full-powered computer that lacks an optical drive and eschews a hard drive in favor of solid state drives that are faster and more power-friendly at the expense of large capacity, and favors only a few output ports. It's a Jon Ive special, one might say–the Air is a laptop boiled down to its simplest essence, just a keyboard, screen, trackpad, and a few ports. The Air has become one of Apple's fastest-selling machines, with users loving its almost instant-on speed, light but strong body, and pure, attractive design.
That's what Intel is chasing, of course. The Ultrabook plan has hit a few flaws, with many early headlines suggesting makers were having difficulties meeting the Air's $999 price point thanks to the raw cost of components and later headlines noting makers had to switch to alternative cheaper materials and forcing Intel to drop prices. But it looks like Intel's effort will work out, and more and more ultrabooks will probably arrive in 2012. With Apple rumored to be leading the charge, bringing the Air format to a 15-inch laptop, the Ultrabook format will probably sway the design of the majority of laptops produced from 2012 onward. They will sell because they do offer significant benefits to users.
But remember that description of the Ultrabook? Almost to a word it fits an earlier laptop reinvention–the netbook. These cheap half-powered machines were incredibly popular a handful of years ago when the economic outlook was dim, and compared to the weighty "full" laptop, they seemed to offer a new degree of portability and extended battery life that promised new experiences to users.
They sold by the millions, but then the star faded: The economy picked up, users realized they weren't fully capable machines that could in all circumstances substitute for the full-feature laptop of which they were a pale echo, and though the netbook is still on sale it's now merely another type of computer on sale.
We are drawing the comparison between the two here–the Ultrabook is perhaps a more considered, full-featured version of the netbook.
But Apple's Air is the touchstone for what may be a laptop design evolution, but it's not a revolution in the same way the iPhone was to the smartphone business. The Air and the Ultrabook are merely the calm, polished peak of laptop design. There's nothing extra, there's nothing superfluous, they offer powerful processing, speedy responses, and longer battery life than you may have expected from their tote-friendly mass. But they still need laptop staples: a keyboard, a webcam, ports, wireless powers, a quality screen, and a pointing device–in Apple's case the simplest most innovative implementation of the trackpad, in giant size.
There's nowhere to go from here. How may one improve the Air into the Air II? It's about as simple an edition of the laptop format–which Apple, to some extent, invented, that's possible. By definition, the Ultrabook is the same. You may add features like a touchscreen or perhaps 3-D, a built-in pico-projector, or some other tricks, but that would be gilding the lily, and the essential format is the same. And it works–we're all used to portable computing, and to using a keyboard and trackpad to control a windows/icons/mice/pointers user interface such as OS X or Windows 7.
And yes, if it ain't broke … don't fix it.
But it means the laptop is dead. There's literally no place left to take it, innovatively. Makers will churn them out for several years yet, but they'll be rewarmed editions of what we see in 2012. And when this sort of evolutionarly cul de sac is reached, it means one thing: Massive scope for an innovative new product to revolutionize portable computing for the consumer around the world. Shrewd industry observers will suggest the tablet PC is perfectly poised to slot into this niche: It has a totally new user experience, it lets consumers relate to computers in a wholly new and more intimate way, it offers new interactions that aren't possible with the unweildy hinged format of a laptop–such as motion controlled gaming–and it's a true go-anywhere device. If it evolves a little more past its current perceived "lightweight" computing uses, it'll be an even stronger contender.
We're not saying laptops are going to disappear momentarily. They're still selling incredibly well, and they will do for some time. But the Utrabook isn't the silver bullet to securing their future–they're instead almost like a well-polished, perfectly refined full stop at the end of the design description of the device. Something better will soon hove into view, and we'll love using it. That's why the portable computing game is so hot, why there's so much scope for innovation and that's why the immediate future is so exciting.
Viewed 4088 times by 1028 viewers